Miscellaneous Freshwater Fishes
The Butterfly Fishes
For anyone looking for something a little out of the ordinary, nothing could be better than the butterfly fish. Known scientifically as Pantodon buchholzi, it is a surfacedwelling predator. The mouth is like a drawbridge and they will take any insect or even fish that fits into it. Apart from this, they make excellent companions for medium-sized (over 8 cm (3 in)) mid- or bottom-dwelling peaceful fishes.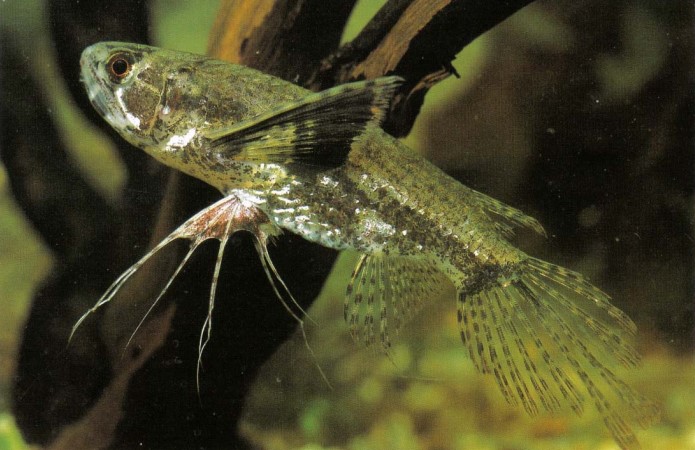 The aquarium need not be deep, 15-20 cm (6-8 in) is acceptable, but you can, of course, house them in deeper aquaria when they are kept with other fishes. For preference the water should be soft, acid, and well filtered. Any deterioration in water quality may lead to fin degeneration and loss of appetite.
They like to lurk beneath rafts of floating plants; cork bark floating on the surface provides a natural looking alternative and a place to put a dish of maggots to hatch into flies for the fishes to eat. "Butterflies" love to jump for flies – butterflies love to jump, period! The floating cork/plant layer helps to discourage this, but, better safe than sorry, make sure the aquarium is tightly covered. Other foods relished are any surface-dwelling insects, be they larvae or adults; meal worms, spiders, woodlice, maggots (buy uncoloured maggots from a fishing tackle shop and store them in a plastic box, with ventilation holes, in a cool place), large flakes, and sometimes floating pellets. Frozen foods are eaten as they fall through the water but anything that reaches the bottom is usually ignored.
There has been some success breeding these creatures. Males have a convex anal fin with the central rays forming a tube, while that of females is straight. Correct feeding is crucial to bring them into spawning condition: they need a varied diet including plenty of live food.
The fishes spawn over a long period each day, and the eggs, which are lighter than water, float to the surface. They can be easily scooped out to be hatched in another tank using water from the parents' aquarium. The eggs are transparent at first but over the next nine hours or so turn dark brown, almost black; they hatch in about 36 hours. Raising the fry is exceedingly difficult. Try Artemia nauplii as a first food and make regular, small, partial water changes, and you may have some success.