Miscellaneous Freshwater Fishes
Sun Bass and Darters
There are some wonderful alternatives to goldfishes for the coldwater aquarium, such as the sun bass and darters. Both groups could be kept in a garden pool in the summer months, but because of their colour and/or lifestyle you would not see them very often.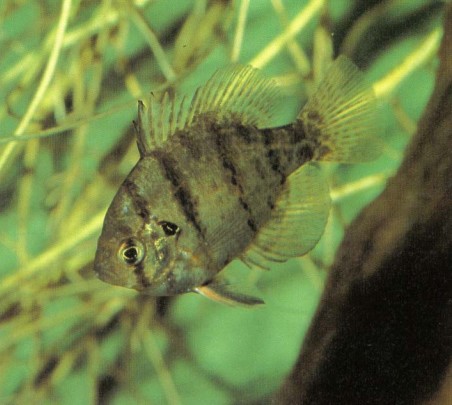 Sun bass, or sunfishes as they are sometimes called, are North American fishes of the family Centrarchidae. Some very large members of this family are held in high regard by anglers. Aquarists, however, are mostly interested in the smaller species which can easily be accommodated in an aquarium. Sunfishes are very attractive, with numerous coloured spots and spangles on their flanks, and, when seen in sunlight, it is not surprising that they are sought after for the cool water aquarium.
One of the smaller species, Elassoma evergladei (Pygmy sunfish, Everglades pygmy sunfish, Florida pygmy sunfish), is found in the eastern USA from North Carolina to Florida. As may be expected from its distribution, this fish has a wide temperature range (10-30°C / 50-86°F) and is often kept in the tropical aquarium. It is small, reaching only 3.5 cm (l] /2 in).
The three species of Enneacanthus are slightly larger fishes ranging from 8-10 cm (3 1/4-4 in) in length and are not recommended for inclusion in the tropical tank: they like the water temperature to rise to about 22°C (71-72°F) in the summer and cool to 10°C (50°F) or so during the winter months. Enneacanthus chaetodon (the Black-banded sunfish) is found in the states of New York, New Jersey, and Maryland; Enneacanthus gloriosus (the Blue-spotted sunfish) is more wide-ranging, occurring from New York State down the eastern seaboard to Florida; and Enneacanthus obesus (Diamond sunfish, Little sunfish) from New England to Florida.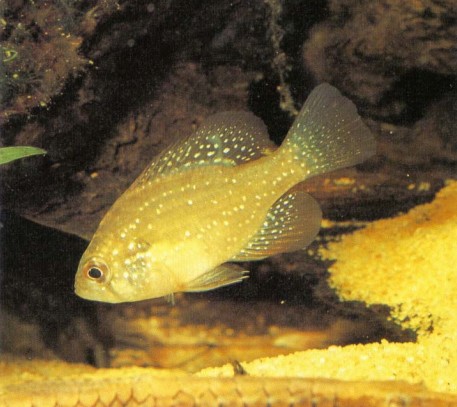 All prefer a planted aquarium with a sand or fine gravel substrate, and all are sensitive to poor water conditions and rapid, frequent temperature fluctuations. Care is needed when making water changes to ensure that the pH is not raised – Enneacanthus obesus in particular will suffer – and even healthy fishes will become susceptible to fungal infections if, for example, they are suddenly switched from slightly acid water to anything more than slightly alkaline conditions (above 7.5 is likely to prove harmful). At worst the fishes will die.
Feeding is simple as they readily take frozen foods such as bloodworm and mosquito larvae. Live foods are preferred, but they will accept flake. To condition them for breeding it is essential to give them as varied a diet as possible.
Breeding Sunfishes
Sunfishes are more likely to breed if they have been kept in cooler water during the winter. We have found that keeping Enneacanthus chaetodon in an unheated greenhouse in a 50-70 litre (10-15 gallon) vat with external power filtration, sand substrate, a few plants, and a diet of frozen and live foods (much of which fell in naturally) provided ideal conditions for the fishes to breed.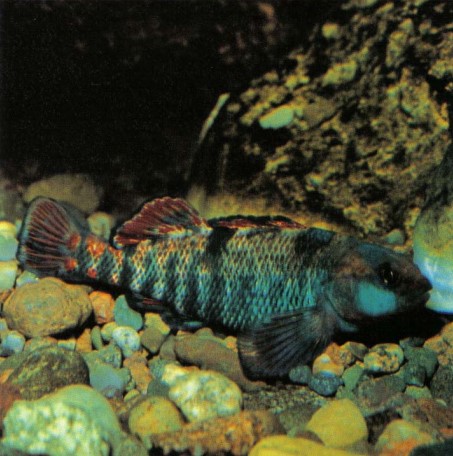 In Enneacanthus it is hard to differentiate the sexes: females are heavier-bodied and their colours may be slightly more intense. One way to tell takes a little practice; observation of their behaviour. The males stake out territories and defend them; this is more obvious when they are about to breed but can also be detected at other times. Spawning is preceded by courtship and nest building. The male digs a pit in a sheltered area of the tank and defends it vigorously. He courts his chosen female and eventually the sticky eggs are deposited in the nest. After spawning the female can be removed, leaving the male to guard the nest and fry. Once these are free swimming, the male can also be removed. The fry are raised on small live foods.
Recently, one of the North American darters, Etheostoma caeruleum (Rainbow darter), a native of central North America but with some population pockets in New York State, has been made available to hobbyists. A small bottom-dwelling fish, it needs cool conditions (4-18°C/ 39-64°F), and suffers considerably if the temperature rises above this. Some aquarists even use cooling systems to keep the water temperature down during the summer months. It inhabits fast-flowing streams with very clean, highly oxygenated water and something approaching these conditions should be aimed for in the aquarium. It is very sensitive to silty and polluted conditions. Reaching 7.5 cm (3 in), it is an ideal aquarium fish and may breed. In the wild it spawns in gravel beds during spring and early summer.