Miscellaneous Freshwater Fishes
Leaf Fishes
If you are looking for something a little out of the ordinary you may like to consider the leaf fishes. These members of the family Nandidae occur in South America, Africa, and Asia. Monocirrhus polyacanthus (South American leaf fish) and Polycentrus schomburgki (South American leaf fish or Schomburgk's leaf fish) are found in north-eastern South America; Polycentropsis abbreviata (African leaf fish) occurs in west Africa; and Nandus nandus (nan-dus) in Asia, from India to Thailand. Breeding strategies vary: Monocirrhus polyacanthus lays its eggs on a leaf, P. schomburgki spawns in a cave, P.abbreviata uses a bubblenest, and virtually nothing is known about what Nandus nandus does. All are rarely seen in the trade but we have chosen one to illustrate some of their needs.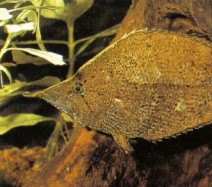 Monocirrhus polyacanthus inhabits still and slow-moving waters in the Peruvian Amazon. We include it here so that you don't inadvertently buy one and place it in your community aquarium with disastrous results. These fishes are out-and-out predators and will not accept dead foods at all, so if you are contemplating keeping them, think hard before buying.
Primarily brown in colour, they look just like dead leaves. They can vary their body colour: one day they may be dark brown, another golden, and a third "cloudy". At night they take on what can only be described as a cloud pattern -brown patches on a lighter beige/brown background.
Monocirrhus polyacanthus needs to be kept in a species aquarium. The tank should include bogwood, be well planted with large Echinodorus sp. (Amazon sword plants), and have very gentle filtration so there is little water movement. The fishes are timid and difficult to acclimatize, so once they have settled in do not add any other fishes. The setup needs to be mature with slightly acid soft water. If the water is not right -perhaps too high in nitrates -the fishes will stop feeding and rest with their fins clamped.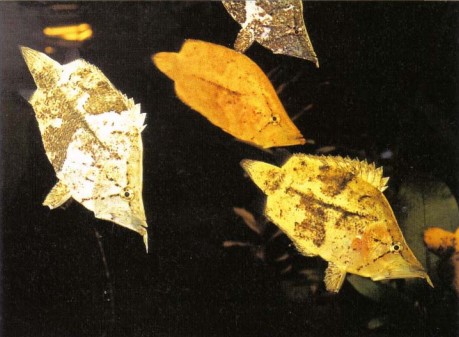 For much of the day they will float motionless, head down in the water, looking to all intents and purposes like floating leaves. To make the illusion complete, they have a small fleshy barbel on the tip of the lower lip which looks just like a leaf stalk. Put some live food (fishes) in and the leaves come to life, fluttering their fins so that they drift towards the prey; when close enough, the jaws open and the prey is engulfed. They should be kept only if a continuous supply of small live fishes can be provided as their food.
They breed in a similar manner to some of the cichlids. The pair clean a leaf and the female deposits the eggs thereon. These and the resulting fry are guarded by the male. Rearing the fry is easy if, and only if, you can provide enough live foods. The fry will consume their own body weight in food each day, and when you have 300 hungry mouths to feed, this is an awful lot of live food.