Miscellaneous Freshwater Fishes
Gobies
Many gobies are brackish water fishes but there are some that are at home in fresh water. Most are bottom-dwellers, lurking among stones and roots, and scuttling from place to place in search of food. They are carnivores and require live foods and/or dead meaty foods (frozen bloodworm for small species and pieces of fish or meat for larger ones). Aquarists use the term "goby" to cover two families of fishes, the Gobiidae, or true gobies, and the Eleotridae, or sleeper gobies. The Eleotridae have long slender bodies and their ventral fins are separate whereas the Gobiidae have a similar body shape but the ventral fins are fused to form a sucker that helps the fish to maintain position in fast-flowing waters. Members of both families adapt well to aquarium life, but do check to see how big they grow before putting them into a community aquarium. Oxyeleotris marmoratus, for example, can grow to 50 cm (20 in) and has a voracious appetite, consuming the equivalent of its own body weight in a day – your neons wouldn't stand a chance.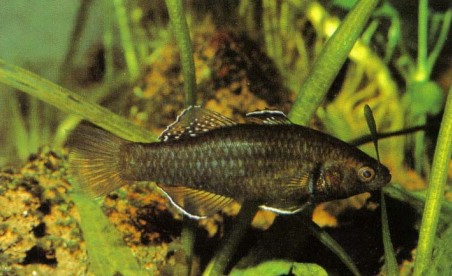 Of the sleeper gobies, Hypseleotris cyprinoides is a peaceful addition to the general community aquarium, where it will coexist with other fishes without any problems. Far more colourful is Tatcurndina ocellicauda (peacock or eye-spot sleeper) native to New Guinea, where it is found in lowland rivers and pools. Their colour alone makes them an instant success among aquarists, and that you can breed them is a bonus.
Peacock gobies need a wellfurnished, softwater aquarium. If kept with other fishes, these should be equally peaceful otherwise you will not see an awful lot of your gobies — they will retire to the quieter, darker regions. Males, although slightly larger, are slimmer than females. The females have more yellow on the belly region and brighter yellow on the outer edges of the dorsal and anal fins. These small fishes, 7.5 cm (3 in) at most, breed in small cracks and crevices or caves. Half a coconut shell makes an acceptable spawning site. The male courts the female by shaking and shimmering his body and fins in front of her. The pair then retire to the spawning site where the eggs are deposited on a flat surface; the female is then chased away by the male, who remains on guard to tend the eggs and brood. The fry are easy to raise because they will accept brine shrimp nauplii as a first food.
Of the true gobies, Stigmatogobius sadanundio is a very popular, if infrequently imported, goby. In complete contrast to the peacock goby, this fish requires hard alkaline water and under no circumstances should you try to acclimatize it to acid conditions. Although these little gobies are territorial bottom-dwellers, they do not bother mid-water fishes, so they may safely be kept with swordtails or sailfin mollies in a planted aquarium that has rocks and caves to provide seclusion and help territorial boundaries to be defined.
These fishes benefit from a fluctuation in water temperature over each 24-hour period (with a lower temperature at night). They will tolerate temperatures between 20-26°C (68-79°F). You can also add 1-2 level teaspoons of aquarium salt per 11 litres (2.5 gallons) – if your plants and other fishes will tolerate it – but this is not essential.
If, however, you wish to try and breed them, a species tank is best. At this time the water temperature needs to be at the upper end of their range (about 24-28°C/75-82°F), and the addition of salt as detailed above certainly helps to induce spawning. A sand or fine gravel substrate with rocks and caves is required. Flowerpots laid on their sides, or completely inverted with a small triangular piece cut out as an entrance, are ideal. The gobies lay their eggs on the ceilings of caves so an inverted pot makes a good substitute. A pair may produce 1000 or so eggs each of which is attached to the cave ceiling by a fine thread. Both parents tend the brood and the fry are relatively easily reared on newly hatched brine shrimp.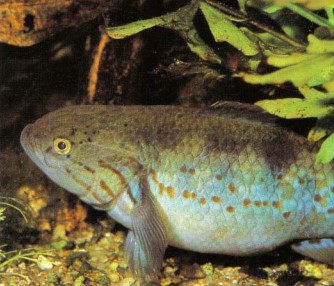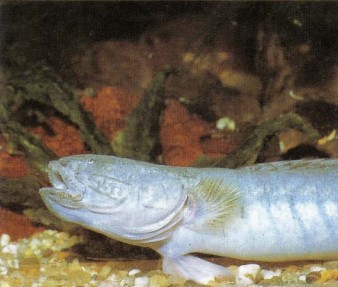 One of the most beautiful of all the gobies, which turns up from time to time in retail outlets, is Chlamydogobius eremius (Desert goby). It is very a small species which will grow to about 6 cm (2 1/4 in) in the aquarium, although the female tends to remain a little smaller. She is a rather plain silvery-grey fish with a black spot in the second dorsal fin. The male, however, is a lovely lemon-yellow colour on the body, which contrasts spectacularly with the blue fins edged in yellow or white.
This is another hardwater species which prefers a pH above 7.5 and a hardness in excess of 12 dH. The temperature should be maintained at 24-26°C (75-79°F). The tank should have a white (or other pale colour) sand substrate and plenty of rocks and caves. The males are very quarrelsome towards each other but peaceful towards other species.
It is supposedly a cave spawner which lays its eggs on the ceiling of a cave, but it will also spawn in the open on a rock. Whichever method is used, the male will guard the eggs and young until they are free swimming. Up to 50 eggs are laid in a clutch. These take up to seven days to hatch and the fry will require newly hatched brine shrimp as their first food. The fry grow quickly and are sexable after only three months, and are sexually mature at about six months of age.