Koi Carp
Some of you may be tempted to keep Cyprinus carpio (Koi Carp) in an aquarium and we would like to advise against this. Koi are potentially large fishes best housed in large purpose-built ponds with powerful filtration systems.
Bitterling
The various subspecies of Rhodeus sericeus (bitterling) are available during the summer months and are ideal for the aquarium as they are easy to keep, and feed on just about any small foods. They also have an unusual method of breeding, and need a swan mussel to spawn in. This alone makes them worth the effort.
When ready to breed, males are almost olive green along the top of the head and the back, with iridescent shades of blue, pink, and violet along the flanks. Females are yellower and show an ovipositor. Breeding is stimulated by a rise in water temperature to about 22°C (72°F).
Use a tank with a sand substrate and thickets of plants, and several live Swan Mussels (Anodonta sp.). The male keeps nudging the mussel with his mouth to stimulate it to remain open, while the female places her ovipositor in the mussel's outlet valve and deposits her eggs. The male follows, swiftly shedding his milt over the mussel and thereby fertilizing the eggs. Some 30 days later the fry leave the mussel and have to be raised on very fine live foods.
Recent importations
Over the last couple of years some unusual fishes have been arriving from the Far East. One of these, Myxocyprinus asiaticus, is a large cyprinid (family Catostomidae) from China. Sold under the name Chinese sailfin, small specimens are highly coloured and very attractive; they are marbled with brown on a lighter cream or beige background, and the high dorsal fin makes them most appealing. The problem is that these small, endearing, 15-20 cm (6-8 in) fishes grow to more than 60 cm (24 in), so unless you can cope with this, leave them to public aquaria. This North American fish, Notropis lutrensis (shiner), requires cooler temperatures in winter than in summer.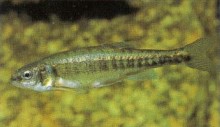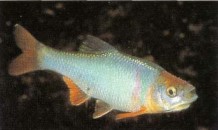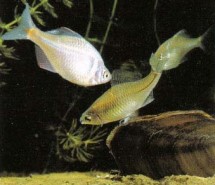 If you are going to try your hand, it is important to keep these fishes on the cool side and ensure that they have a very good filtration system to maintain water quality. Feeding does not seem to be fraught with any difficulties as the fishes accept flake, frozen, and live foods.
North America has also been the source of some unusual species such as Notropis lutrensis (shiner) and Phoxinus erythrogaster (Southern Red-bellied Dace). Both are stream fishes that adapt well to aquarium conditions provided the tank is not overcrowded. They like high levels of oxygen and a good flow of water, so it is essential to maintain your filtration system well as any deterioration in water quality will lead to the demise of these fishes. The aquarium should have a sand or gravel substrate with pebbles and thickets of plants to provide cover. They are omnivorous, and flake, live, and frozen foods will all be taken, but ensure that you do not over-feed to the extent that uneaten food pollutes the water.
The males of Notropis lutrensis are far more colourful than the silvery females. During the breeding season, the male develops tubercules around his snout. The fishes breed over sand, the pair depositing their eggs and then leaving them to fend for themselves.
Phoxinus erythrogaster is a very colourful fish that displays best if kept in a shoal. The males are much more highly coloured than the females, with their sides and bellies becoming deep red or sometimes yellow. These fishes spawn in the spring over open sand areas.
In order to encourage both these species to breed it is essential to keep them at cooler temperatures over the winter, say 10°C (50°F) for Perythrogaster and 14-15°C (57- 59°F) for N. lutrensis, as warming of the waters seems to be one of the triggers for spawning.