Characins
Big Beasts
No piece about the characoids would be complete without mentioning some of the larger, more specialized fishes. Of these, the piranhas have a worldwide reputation. They belong to the family Serrasalmidae, which includes not only the carnivorous piranhas but also some large, peaceful herbivores.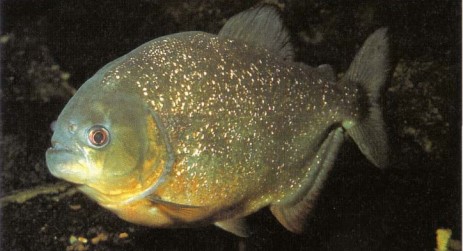 Serrasalmus nattereri (Red piranha) is a fine example of these fishes. It is the dream of many hobbyists to keep one or more, but few achieve this. Indeed, in some countries, for example the USA, they cannot be imported for fear of escapes, and/or release by irresponsible aquarists, into the wild, because of the danger of feral populations becoming established. This would decimate indigenous fish populations.
They are a fish that needs to be handled confidently but with extreme care – this cannot be over-stressed. If alarmed, their first reaction is to attack and bite, and as they are armed with a fearful set of teeth they can inflict serious wounds. Many a native fisherman has lost a toe to a piranha, but not when swimming in the water; more usually when he has caught the fish and it is flapping about in the bottom of the canoe. Even small specimens will bite.
When transporting them home they should be double-bagged, with a thick layer of newspaper between each of the polythene bags, so that if the fish bites through the inner bag, its teeth will not go through the soggy newspaper and puncture the outer one. Pack them one fish to a bag. Alternatively, transport them in rigid containers such as buckets with lids, and again, one fish per container. Another word of warning: do not put your hands in the aquarium if you have any open wounds on them – it is not worth the risk.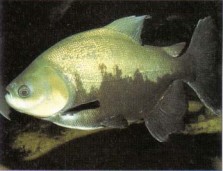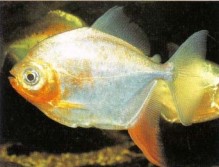 In captivity they require a large aquarium with very efficient filtration and a good flow of water. Water chemistry is not critical: soft to medium hard water with a neutral or slightly acid pH is fine. As they are carnivores they produce a lot of high protein waste, so the efficiency of the filtration system is critical. Any deterioration in water quality will stress the fishes. Plant the aquarium with Echinodorus sp. (Amazon sword plants) and decorate with large pieces of wood that look like tree roots, to give the fishes some shelter.
Feeding piranhas is simple – they eat anything meaty, alive or dead – pieces of meat or fish are best. For young specimens use small pieces of food, and keep up a steady supply without overfeeding. Remember a hungry piranha is dangerous and will reduce a prey item to shreds. In the wild, piranhas are thought to feed on the fins of other fishes as well as whole ones.
Juvenile S. nattereri are silverbodied with numerous black spots, while the pectoral and anal fins are reddish. As the fishes mature they lose their spots, becoming silvery with a more golden back, and with red on the throat and belly. If you wish to keep a group, it is best to purchase a shoal of youngsters and grow them up together; you will find that a hierarchy develops within the shoal. Provided you don't upset the status quo by adding more later, the shoal will flourish.
Serrasalmus nattereri has been bred in large aquaria. They spawn at first light and produce up to 1000 eggs. The male and female guard the nest for the first 24 hours, but the female is then chased away and only the male remains on guard. The young are relatively easy to rear on brine shrimp, but ensure that you have sufficient space to raise them. After about four weeks, they need to be graded by size otherwise the larger fishes will eat the smaller ones. Copious amounts of live foods, in ever-increasing sizes, are needed to raise them successfully.
In the same family, the Serrasalmidae, we also find some harmless herbivores, one of the largest being Piaractus brachypomus (Pacu). Large fishes that grow to well over a metre (40 in), they are suited to public aquaria rather than the home aquarium. Small specimens are sometimes available, but do give due consideration to their potential size before purchasing one. If you can provide an aquarium of 200 x 60 x 60 cm (84 x 24 x 24 in), with a filtration system to match, you are partway there, but be prepared to move the fishes on to larger accommodation.
Pacu are vegetarians. In the wild their diet consists of fruit and seeds, while in captivity they will eat just about anything "vegetable": bananas, figs, cherry tomatoes, courgette, lettuce, pond weed; their philosophy seems to be, "If it's vegetable we'll give it a try!" They have very inefficient disgestive systems and produce waste that forms food for other fishes. The large doradid catfish Pseudodoras niger makes an ideal companion for a pacu and will sift through the detritus when feeding.
On a more manageable level, there are other peaceful herbivores in this family, such as Metynnis argenteus (Silver dollar), Metynnis hypsauchen, and Myleus rubripinnis. Under aquarium conditions all reach a reasonable size (10-15 cm/4-6 in). Being shoaling fishes, they make ideal companions for catfishes and loaches. They require plenty of space: an aquarium of a metre (36 in) or longer is required for youngsters, and 120 cm (48 in) or more for a shoal of six to eight semi-adult fishes. Water conditions are not too critical as long as they are soft and slightly acid and warm, up to 28°C (82°F). Make sure the filtration system is efficient and, especially for M. rubripinnis, that the water is well oxygenated.
Provide a planted aquarium but use artificial plants or very robust species of live plants such as Microsorium pteropus (Java. fern) attached to wood and rocks, and large Echinodorus sp. (Amazon sword plants) and Cryptocoryne sp. planted in the substrate. Ensure that the plants are well established and growing vigorously before introducing the fishes to the aquarium. Provided you feed them well on a variety of vegetable foods (they are particularly fond of lettuce) the plants will not be harmed to any great extent.
Metynnis can be sexed by the anal fin, which in males is longer and more highly coloured than in females. They are shoal spawners and relatively simple to breed. The water needs to be soft, (less than 6 dH), acid (pH 6.0-7.0) and warm (26-28°C/79-82°F). These fishes like to spawn among floating plants, and a single female may produce up to 2000 eggs which fall to the bottom and are ignored. The fry are easily raised on small live foods, but many are lost because the average aquarist has insufficient space to cope with such large numbers of fry, both in terms of space and the quantities of food required.
Myleus rubripinnis is another matter entirely. These fishes are not readily sexable and so far have not been bred. They are more difficult to maintain than Metynnis because they do not tolerate any build-up of nitrates in the water, and they require higher levels of oxygenation.
Sometimes M. rubripinnis is seen with small spots on its body, looking like little tiny blisters about the size of a pinhead. At first they give the impression that the fish is covered with air bubbles but this is not so, they are the sign of a so far unidentified disease.