Catfishes
Other Catfishes of General Interest
With over 2000 species from which to choose, only a very small selection can be described here. Other species to look out for are Pimelodus pictus (Angelic Pirn), often sold as a community aquarium catfish, with a striking silvery body and black markings. This South American naked catfish grows to about 14 cm (5 1/2 in), and is fairly active during the day. Adult specimens may eat very small fishes, but juveniles are usually harmless. They can, like many catfishes, be extremely difficult to handle owing to their sharply pointed dorsal and pectoral fin spines. If these puncture your skin the mucus of the fish can cause mild blood poisoning, which can be quite painful for an hour or two.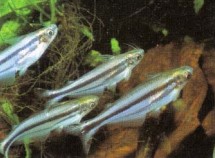 The family Pimelodidae, of which Pimelodidae pictus is an example, includes large carnivorous catfishes such as Sorubim lima (shovel-nose), a sleek fish with a flattened snout, wide mouth and long barbels. As an adult can grow to 50 cm (20 in), only juvenile specimens are suited to the domestic aquarium. An even bigger species is Phractocephalus hemio Hopterus (red-tailed catfish), growing to 1 metre (3 feet). In recent years small (5 cm/2 in) specimens have been offered for sale, a practice that has led to public aquaria being swamped with offers of sub-adults as the fishes outgrow their owners' tanks.To keep any large animal, be it a fish, dog, horse, or whatever, is a commitment that cannot be shirked. Always, no matter what fish you are buying, make yourself familiar with its demands and satisfy them.
For those with an appetite for adventure, how about Malapterurus electricus (African Electric Catfish). Adult specimens, which grow to 40 cm (16 in), can generate a discharge of up to 200 volts. The electricity is developed in a biological battery composed of modified muscle which surrounds the body, from just behind the head to the base of the tail. The fish uses this discharge to stun prey and for defence. Afterwards it takes about 10 to 15 minutes to recharge. It is a sedentary fish, rarely moving from its chosen lair. Needless to say, it is unwise to keep it with other fishes, and special handling is required.
From the above examples it would seem that catfishes need to be avoided, but this is far fromthe truth. There are many other species that offer grace or curiosity, and are well suited to life in the community aquarium. Eutropiellus debauwi (African Debauwi Catfish) is very much at home in this kind of habitat. With an undemanding diet and best kept in shoals, they make excellent additions to the tank.