Brackish Water Fishes
Shark Catfishes
Most people regard catfishes as purely freshwater fishes but there are marine and brackish water species as well. Imported under the names Arms seemani and Ariusjordani, they are collectively known in the trade as the shark catfishes, and have been a regular, if somewhat seasonal, import over the last twelve years or so. Their common name probably derives from their vague resemblance to sharks when they are swimming.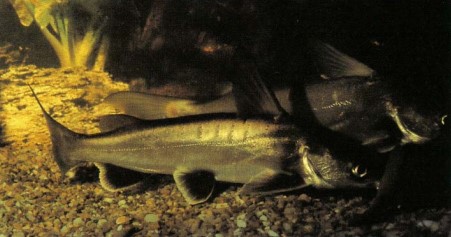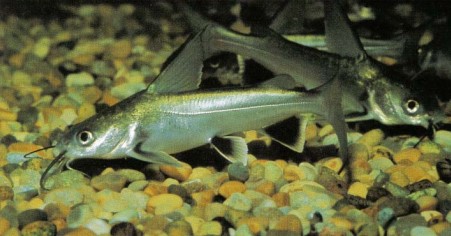 When they originally appeared on the market it was believed that they, like all the other catfishes in the trade -with exception of Plotosus lineatus (Marine catfish) – were freshwater fishes. Many were lost, but it was noted that those kept in harder water showed a better survival rate. Then research by aquarists revealed that they were probably brackish, if not marine, and that they were also migratory. They proved to be no trouble when kept in brackish water other than that their growth rate was rapid and they required large aquaria.
Shark "cats" are found along the western seaboard of the Americas, from California down to Colombia. Young specimens are imported at about 5-10 cm (2-4 in) in length, and these will live for a while in fresh water, but as they grow they require more saline conditions so in this respect they are ideal for a brackish aquarium. They are gregarious and very active. Don't be tempted to keep young shark catfishes in your community aquarium, even on a temporary basis, while you prepare a suitable tank for them. Although they will love it, you will find that your other fish stocks become seriously depleted and the shark "cats" will have a smile from whisker to whisker.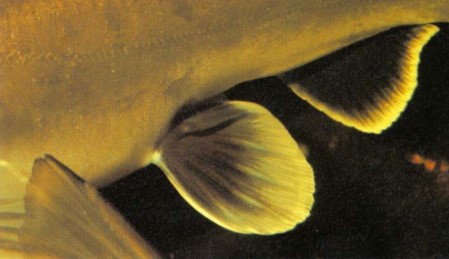 They can be kept with other fishes such as Scatophagus argus (scats) and Monodactylus argenteus (monos), but we have found that it is best to keep them from the outset as a group of four to six in brackish conditions in a species aquarium. The colour on the fishes becomes more intense if they are in a group and they are more active. Indeed, they are one of the few catfishes that are not nocturnal. Provide a sandy substrate and some rounded pieces of bogwood to decorate the aquarium, rather than rocks on which these "naked" catfishes (they have thick skin and no scales) may damage themselves. They are active and sometimes take fright, so they might dash themselves against sharp rocks and any scratches or grazes would show up clearly on their bodies. Lighting can be quite dim as plants are unnecessary in this aquarium. The fishes like to spend some time resting in the shelter of the wood or cruising just above the substrate. Provide external power filtration to create not only good quality water, but also a good current against which the fishes can swim. They become very listless if water quality deteriorates or water flow diminishes, and, if conditions become too bad, their barbels will start to degenerate as will their fin membranes. Regular partial water changes and maintenance of the filtration system will prevent this. Female Arms seemani (shark catfish) develop fleshy pads on the ventral fins when they come into breeding condition. Unfortunately few home aquaria are large enough for a pair of breeding-sized specimens.
Feeding is not a problem. They like a varied diet and will consume large quantities of pelleted foods, flake (for small specimens), pieces of meat, fish, and prawn, in fact just about anything. The temptation is to overfeed them and you must resist this. Feed on alternate days and only then if the fish does not still have a bloated appearance after gorging itself on its previous meal.
As the fishes grow, the colour changes slightly. Youngsters are silvery with velvety black fins, but as they begin to mature they become silvery grey, and if well maintained, develop a delightful coppery sheen. The black in the finnage diminishes until only a trace remains at the base.
A word of warning: shark cats grow very large. In the aquarium they quickly reach 30 cm (12 in), but at this size they are only onethird grown. The likelihood of breeding them in captivity in home aquaria is remote. From field observations and captured specimens we know that they practice oral incubation, with the male brooding both the eggs and fry. We also know that in some species the female grows a fleshy pad on her ventral fins, and it has been suggested that the eggs are held by this pad so that the male can then take them into his mouth. This pad has also been observed on aquarium specimens but, so far, that's as far as captive breeding has got.
Take care when handling these fishes. They have stout spines on the dorsal and pectoral fins and these spines can easily become entangled in nets. The sharp points of the spines can also inflict a nasty wound to the hand of the unwary aquarist who is cleaning out an aquarium, and although at first it doesn't hurt, it usually swells and becomes rather painful. Bathing in hot water has been found to relieve the pain.
As a total aside, ariids are also known as crucifix fishes. This came about because native fishermen found that they could decorate the catfish's skull. The underside is usually painted with a scene of Christ on the cross while the dorsal surface (top) is decorated so that it looks like a monk in flowing robes. These artefacts are then sold to tourists – a great way to earn a living from old fish skulls.