Brackish Water Fishes
Retail outlets tend to stock only a few brackish water fishes because people usually want either marines because of their flamboyant colours or freshwater as they are easiest. The main brackish water fishes available are Scats, Monos, Archers, Arius catfishes, Mudskippers, Anableps, and Brachygobius, plus, if you want to see them at their best, Sailfin mollies (Poecilia sp.). This last group has been dealt with in the Cyprinodonts chapter.
Just because these fishes all come from slightly saline waters doesn't mean that they can be kept in the same aquarium, so we will look at each type separately and, where appropriate, make some suggestions as to which may be kept together.
Four-eyed Fishes
There are three species of Anableps (Four-eyed fish) found in fresh and brackish waters of Central and South America. On the Pacific coast of Mexico, Guatemala, El Salvador, and Costa Rica Anableps dowi (the Pacific four-eyes) can be found. This species is only rarely imported, which is a pity since it is the most attractive member of the genus. It has a greenish brown body with a bright yellow stripe running along its full length. It is usually found in brackish water but one population in Mexico lives in fresh water.
Anableps microlepis (Fine-scale four-eyes) occurs on the Atlantic shoreline of South America from the Orinoco to the Amazon. This fish is usually found in marine habitats and only rarely enters brackish water. It has two or three rather poorly defined brown stripes along the sides.
Anableps anableps (Striped foureyes) has the same range as the fine-scale four-eyes but lives primarily in brackish water and rarely enters fresh or marine habitats. It has five horizontal stripes along the body which can be more or less distinct depending upon the fish's mood. This is the species most commonly imported by the trade, but some consignments contain a few finescale four-eyes as well.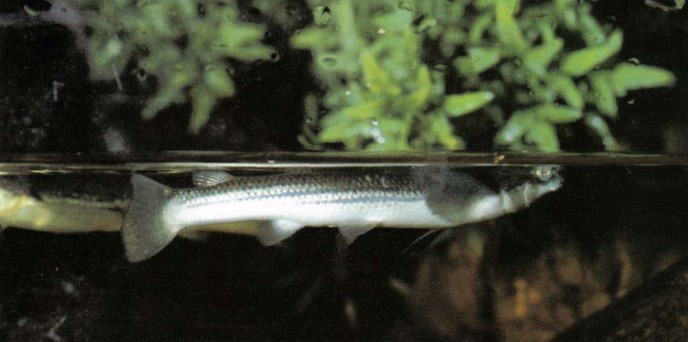 All four-eyes are large (25 cm (10 in)), surface-dwelling livebearers which get their common name from their eyes, which are divided into two segments, enabling them to see both above and below the water's surface at the same time. This is a very useful ability which helps them to spot food or danger as they cruise around the shallow lagoons and river mouths which are their usual habitats.
Anableps have very specific requirements. The aquarium should have shallow, warm (25- 28°C (77-82°F)), brackish water and the air space above it should be kept very humid. This can be achieved by a tight-fitting cover glass which also serves to keep the fishes in the aquarium – they are excellent jumpers and frequently leap when catching flies. A sand or gravel "beach" is also welcome, and the fishes will come partly out of the water to rest on this. A good filtration system is essential. Anableps are large fishes which feed on high protein foods so the system must be able to cope with their waste products. External power filters are ideal, and their return pipes can be positioned so that they create a feature in the aquarium, for example a waterfall over rocks on a beach.
Avoid anysliarp objects in the tank, to prevent damage to the fishes' eyes. If you want rocks, use rounded pebbles, and if using wood, again select rounded pieces (or do it yourself with sandpaper). Salt-tolerant plants may be used to decorate the aquarium, but ensure that there is plenty of open swimming space at the surface. Although they are principally insectivores in the wild, feeding in captivity is relatively simple, as they will take frozen bloodworm as well as small pieces of mussel, shrimp, meat, and fish. If they turn up their noses at one of these, try something else, but do vary the diet, and if you can offer live foods, do so. Most specimens will also feed on flake and sometimes tablet foods.
Breeding Four-eyed Fishes
Breeding these fishes is problematical from the outset in that more females than males occur in the trade, and it is often just luck that you find a male among the females in a dealer's tank. But this is only half the problem: the copulatory organ (modified anal fin) of the male is left or right-handed, that is, it curves either to the left or the right, and the genital opening in females is also biased to the left or right. This means that a right-handed male can mate only with a left-handed female and vice versa. To overcome this, it is necessary to keep groups of four-eyed fishes and let them pair themselves. Indeed, these fishes seem far happier if kept as a small shoal of six to eight individuals.
Four-eyed fishes are by no means prolific. Under good conditions they produce four broods a year, and each time the female gives birth to only about eight fry. These are large, up to 5 cm (2 in) but more usually 2.5 cm (1 in) and this gives them a better chance of survival than smaller fry. From the outset they can take insect larvae, and growth is steady provided they are well fed and regular partial water changes are carried out. It is a good idea to raise the fry apart from the parents so that you can make sure they are getting sufficient food