Anabantids
The Kissing Gourami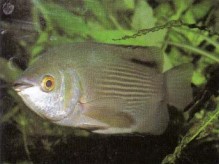 Helostoma temminckii (Kissing gourami) are usually kept because of their novel way of testing each other's strength. The kissing action is not, as we might suppose, a sign of affection between male and female, but a trial of strength between two males, and forms part of the courtship ritual as they try to impress a suitable female. These creatures are very useful in the aquarium because they will pick away at algae, taking it off plant leaves without damaging them. Their preferred food is plankton but it is impossible to provide sufficient of this in the aquarium; they will accept small live foods as well as flake instead.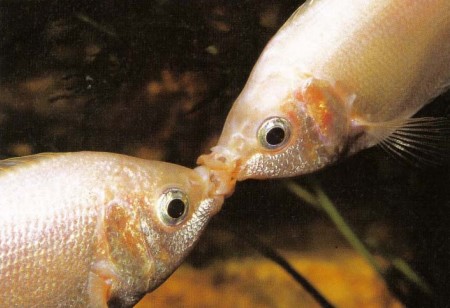 There are two colour forms of the kissing gourami, the green and the pink. The green fish is considered the wild form and the pink the aquarium form, the latter being the most commonly available to the aquarist. They grow quite large, some 10-15 cm (4-6 in), in captivity, so be prepared to give them space. They are very adaptable, tolerating most water conditions, but they do like to be warm, in the 26- 28°C (79-82°F) range. As they are not quarrelsome they may be kept safely with other similarly-sized fishes.
Although they can be bred in the aquarium, do this only if you have plenty of space — a pair will produce up to 10,000 eggs! In their native lands they are bred commercially as food fishes.