Introduction to Pond Fish
Setting up the pond
Choosing and introducing fish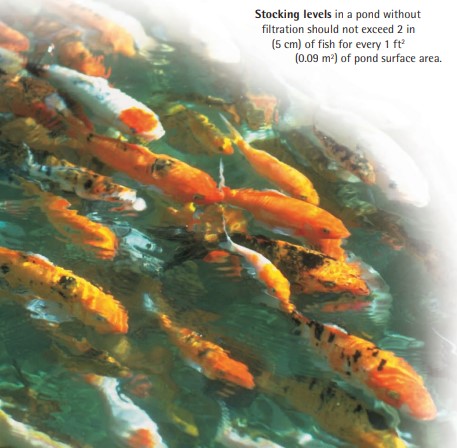 The availability of pond fish is seasonal, with the largest selection offered for sale during the spring and early summer months. This is a good time to purchase pond fish, because it gives hardy varieties that overwinter in the pond the opportunity to become well established before the onset of colder weather. Always obtain pond fish from a reputable supplier who allows you to inspect the fish before purchase.
Most aquarium stores offer a range of coldwater fish, but if you want exhibition-standard koi, you should seek out a specialist dealer. Pond fish are usually priced by size, with the largest individuals commanding the highest prices. It is best to start out with younger fish; this is not only less costly but also gives you the opportunity to tame them. Coldwater fish can grow rapidly under favorable conditions, so take this into account when considering stocking levels for the pond.
House newly acquired fish in an indoor aquarium or a small outdoor pond for a week or so before transferring them into the main pond, to be sure they are healthy. If you have only recently filled the pond, treat the water with the appropriate amount of dechlorinator before introducing the fish.
CHOOSING HEALTHY FISH
Make sure your chosen fish is swimming without difficulty through the water before asking for it to be caught.
View the fish from both sides, because a problem may be evident on one side only.
Inspect the fish closely for signs of skin damage, including missing scales or reddened areas on the body.
Look carefully for any signs of external parasites, which are hard to eliminate from a pond.
INTRODUCING NEW FISH
Most fish can be transported from the supplier to your pond in large plastic bags, but very large koi may have to be moved in vats. Care must be taken when transporting fish, to avoid subjecting them to unnecessary stress. If possible, use a local supplier to minimize the traveling time. Adding oxygen to the traveling bag lengthens the time that the fish can be kept in it, but never keep them confined for longer than necessary.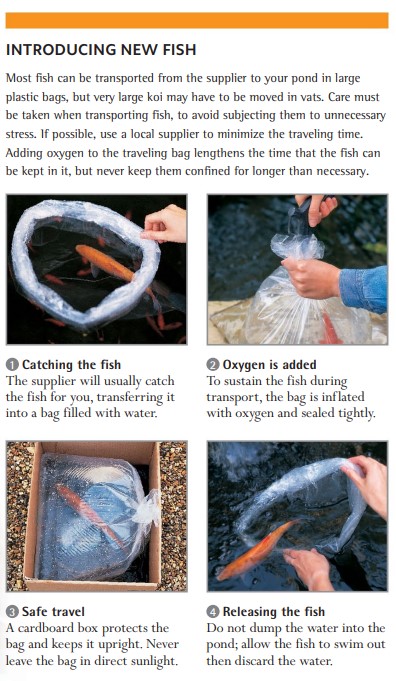 Catching the fish: The supplier will usually catch the fish for you, transferring it into a bag filled with water.
Oxygen is added: To sustain the fish during transport, the bag is inflated with oxygen and sealed tightly.
Safe travel: A cardboard box protects the bag and keeps it upright. Never leave the bag in direct sunlight.
Releasing the fish: Do not dump the water into the pond; allow the fish to swim out then discard the water.
---