Introduction to Pond Fish
Maintenance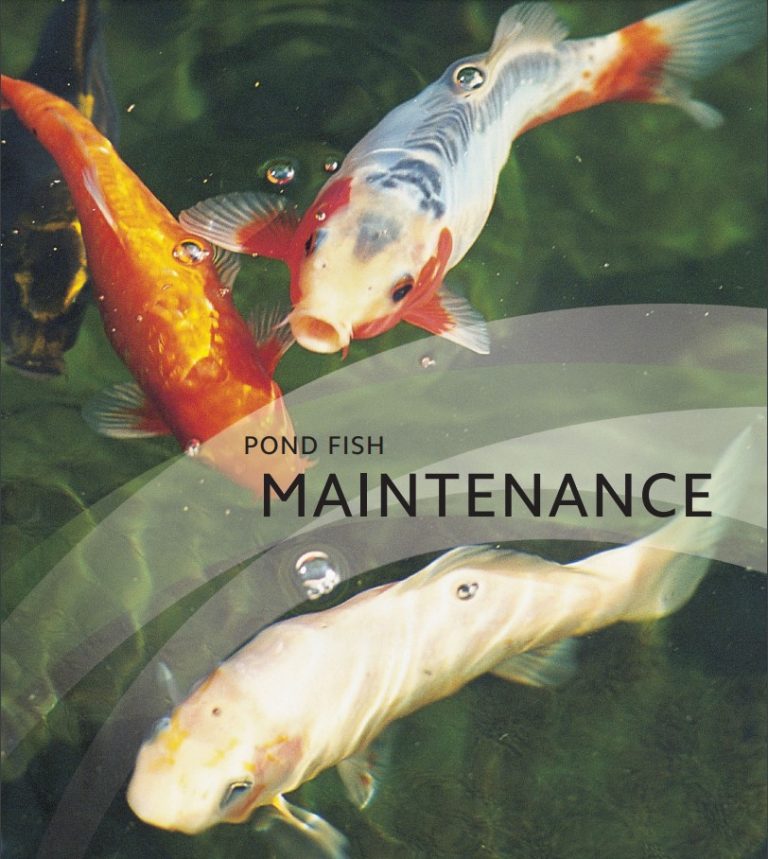 Food and feeding
Coldwater fish, such as koi and goldfish, constantly forage for food—a behavioral characteristic that makes them seem hungry all the time, even though they may have no immediate need for sustenance. In the pond environment, they are able to browse on a range of natural foods, such as algae and plant matter, but they also need to be provided with a staple formulated food to achieve a balanced diet.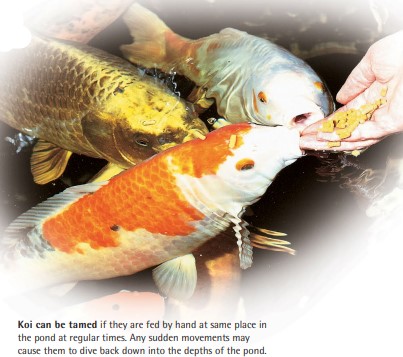 Most fishkeepers give their fish commercially prepared foods, such as pellets and flakes (see box, opposite). These foods contain a scientifically formulated balance of ingredients, including proteins, fats, carbohydrates, vitamins, minerals, and fiber, all of which are essential for a healthy diet. These foods should form the basis of the diet that is offered to your fish.
It is important not to overfeed pond fish, because this can lead to obesity, which will shorten their life span. Also, excess uneaten food is difficult to remove from the pond, and any leftovers may rot, causing a deterioration in water quality. Offering only small portions of food will ensure that all of it is eaten within a few minutes.
A varied diet
Although pond fish will thrive on a diet of formulated sticks or pellets, it is good to provide them with some variety by supplementing their diet with other foods. Depending on the type and size of the food being offered, it should be chopped into suitable sizes so that all fish are able to eat it. Most pond fish are omnivorous and will readily eat green leaf vegetables. These vegetables, such as fresh lettuce leaves, are a good source of fiber. Peas can also be given to the fish, once they have been removed from their shell. Shelled shrimp are a more expensive treat and can be given by hand. They must be defrosted before they are offered to the fish. Most pond fish will also eat brown bread rolled into small balls.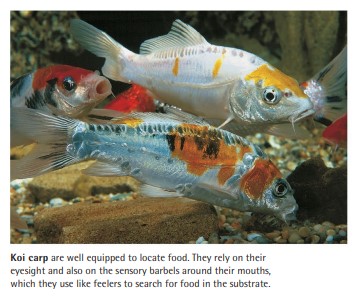 Koi eat a surprising range of foods. One of the most unusual is garlic, which may bring health benefits to the fish, since it has antiseptic qualities. It should be finely chopped before it is given to the fish, or it can be rubbed on the surface of unfamiliar foods to encourage koi to eat them. They will also feed on slices of orange; this provides a valuable source of vitamin C, which can boost the immune system of the fish. The koi will strip the flesh from the peel, which should then be removed from the pond.
Seasonal variations
Most fish are ectothermic, which means that their body temperature is governed by the temperature of the water around them, so that when the water temperature drops, a fish's body temperature also drops. Its ability to digest and assimilate food then decreases, which consequently lowers its appetite and activity level. In cold weather, fish should be offered only small quantities of foods that can be digested easily, since undigested food remaining in the gut could cause illness. The fish should not be fed at all once the water temperature falls below 50°F (10°C) because they are completely unable to digest food at this temperature.
To cater to this variability in requirements, foods are available with ingredients appropriate to the seasonal dietary needs of pond fish. For example, dried foods based on wheat germ, which is easy to digest, are ideal for use during spring and fall when the water temperature is lower.
SPECIALIST DIETS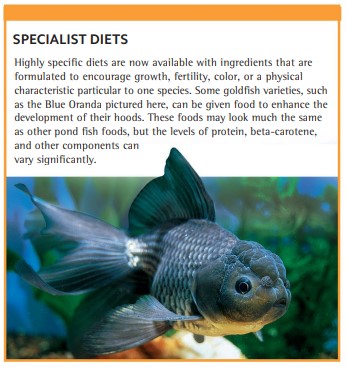 Highly specific diets are now available with ingredients that are formulated to encourage growth, fertility, color, or a physical characteristic particular to one species. Some goldfish varieties, such as the Blue Oranda pictured here, can be given food to enhance the development of their hoods. These foods may look much the same as other pond fish foods, but the levels of protein, beta-carotene, and other components can vary significantly.
NUTRITIONAL BREAKDOWN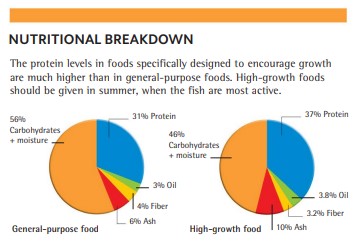 The protein levels in foods specifically designed to encourage growth are much higher than in general-purpose foods. High-growth foods should be given in summer, when the fish are most active.
TYPES OF FOOD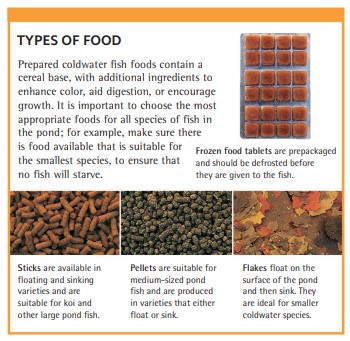 Prepared coldwater fish foods contain a cereal base, with additional ingredients to enhance color, aid digestion, or encourage growth. It is important to choose the most appropriate foods for all species of fish in the pond; for example, make sure there is food available that is suitable for the smallest species, to ensure that no fish will starve.
Sticks are available in floating and sinking varieties and are suitable for koi and other large pond fish.
Pellets are suitable for medium-sized pond fish and are produced in varieties that either float or sink.
Flakes float on the surface of the pond and then sink. They are ideal for smaller coldwater species.
---