Introduction to Pond Fish
Breeding
Breeding
Left to their own devices, a number of coldwater fish will breed readily in a pond environment. However, in a densely planted pond, a successful spawning may go unnoticed until later in the year, when the fry are larger and can be seen feeding alongside the adults. Breeders who like to have more control over the reproductive habits of their fish often spawn them artificially.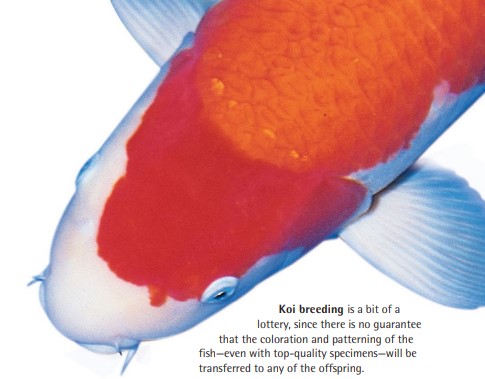 When egg-scatterers, such as goldfish and koi, are kept in a group, they may come into breeding condition simultaneously and spawn together. In such cases, having more males in the group than females will ensure that a higher proportion of the eggs are fertilized. If you want to breed particular fish together and be sure of the parentage of the fry, you should keep your chosen breeding stock on their own. It is also a good idea to set up a special spawning pond for them so that you can move the adults back to the main pond after the eggs have been laid and rear the young on their own. After spawning, the adults may be exhausted and float on their sides at the surface. They will soon recover, but make sure they have not sustained any fin damage during spawning, which could lead to infection.
If you choose to hatch and rear the fry in a tank, either outside or indoors, use a mature sponge filter to provide gentle filtration. Feed the fry on infusoria (see pp.67–68) at first, or a commercial substitute, and then wean them onto powdered flake. Add them to the pond when they are about 1 in (2.5 cm) long and too large to be eaten. Fish reared indoors should not be introduced to the pond in cold weather—the shock of the cooler pond water may kill them. If necessary, keep them inside until the following spring, when conditions will be warmer.
Hand-stripping
Some breeders of goldfish and koi prefer not to allow their fish to spawn naturally. Instead, a male and female fish are given an injection of pituitary gland extract to bring them into breeding condition. Hand-stripping (massaging the underparts of the fish) is then used to expel eggs from the female and semen from the male. The eggs and sperm are placed together in a mixture of urea and iodine-free table salt called Woynárovich's solution, which aids fertilization by removing the eggs' sticky coating. Finally, the eggs are washed in a tannic-acid solution to protect them against fungus and left in an indoor tank to hatch. With hand-stripping, up to 90 percent of the eggs are fertilized, compared with 50 percent when the fish spawn naturally.
BREEDING GOLDFISH

Goldfish, like many other egg-scatterers, can be persuaded to spawn onto an artificial medium such as a breeding brush or a spawning mop, which is then transferred elsewhere so that the eggs can hatch in safety. The adults should spawn again within a few weeks, particularly if they are kept well fed on nutritious live foods such as bloodworm.
Spawning mops are smaller than breeding brushes and more suitable for aquariums than ponds.
Place the breeding brush in the pond Make sure there is enough clearance for the fish to swim over the brush and spawn. Egg-laying usually occurs as the sun starts to warm the water in the early morning.
Transfer the brush to an indoor tank When the fish have spawned, move the brush to the hatching tank without delay. Keep it submerged in dechlorinated water, to ensure that the eggs do not dry out.
COMMERCIAL KOI PRODUCTION
Today, commercial koi breeding practices vary widely from country to country, but in Japan they still follow fairly traditional lines. A female is selected for breeding when she is about five years old. She is kept with two or three males in a large net, on the bottom of which is an artificial medium known as spawning grass. Using multiple males ensures that as many of her eggs are fertilized as possible. This is vital, since only about one in 70,000 fry will be of the highest quality. When the koi have spawned, the eggs are moved to a well-oxygenated hatching pond, which is medicated to minimize the risk of the eggs being attacked by fungus.
The fry hatch after five days and become free-swimming within a further 24 hours. They are then moved to a rearing pond. Successful koi breeding relies on ruthless assessment, and this process begins when the fish are barely a month old. They are carefully caught and examined, and any showing deformities or poor markings are culled, leaving the remaining koi more growing space in the pond. Two further culls are carried out over the summer. In early fall, the koi are assessed for a final time. The best specimens are kept at the farm as breeding stock and taken indoors to overwinter, while the remainder of the group are sold.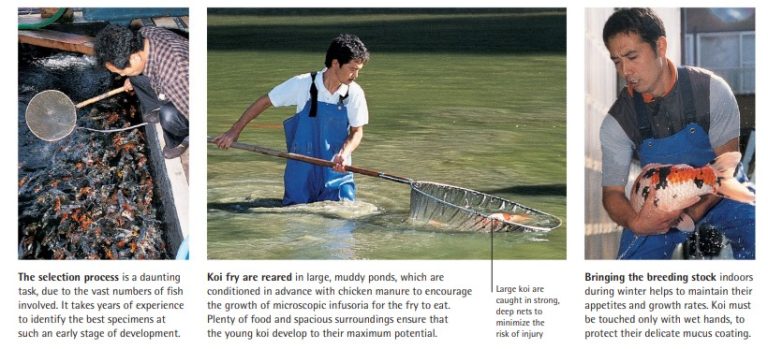 The selection process is a daunting task, due to the vast numbers of fish involved. It takes years of experience to identify the best specimens at such an early stage of development.
Koi fry are reared in large, muddy ponds, which are conditioned in advance with chicken manure to encourage the growth of microscopic infusoria for the fry to eat. Plenty of food and spacious surroundings ensure that the young koi develop to their maximum potential.
Bringing the breeding stock indoors during winter helps to maintain their appetites and growth rates. Koi must be touched only with wet hands, to protect their delicate mucus coating.
SHOWING KOI
Koi shows are great occasions for breeders, dealers, and hobbyists alike. The fish are exhibited in different size categories. The smallest category typically includes fish up to 8 in (20 cm) long, and the largest includes those in excess of 32 in (80 cm). All the fish are displayed in the same blue vats, to make the task of judging easier, and measured with a floating scale to ensure that they are of the correct size. The judges do not compare the fish directly with each other but instead assess them against what is considered the ideal for that particular koi variety. Color, patterning, body shape, skin quality, and even swimming action are all taken into account. Great care is needed when transporting koi to and from shows, since any blemish, such as a split fin or abnormal reddening of the skin due to stress, can ruin a koi's chances of success.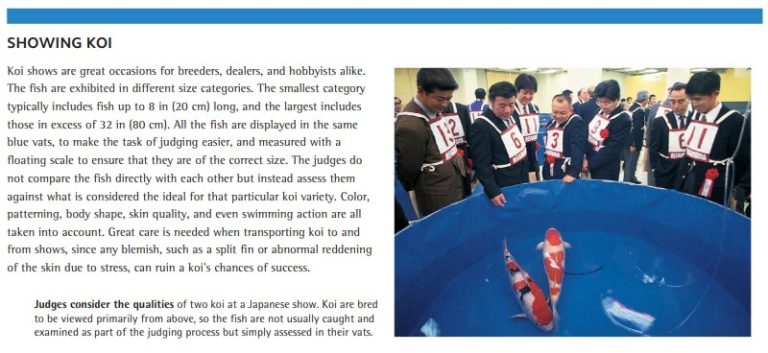 ---