Introduction to Marine Fish
Setting up the tank
Selecting the decor
It is possible to keep marine fish in a bare tank. However, even the simplest fish-only setup will benefit from judicious decoration, which will accentuate the colors of the fish, provide them with places to shelter and spawn, and set out territorial spaces in the tank. In more advanced reef aquariums, the choice of decor is vital, because it transforms the tank into a dynamic ecosystem capable of supporting a diversity of life.
There is a huge range of tank decor available to the home aquarist. Real and artificial rocks, corals and sea fans, shells, amphoras, and even plastic novelty items such as shipwrecks and sharks can be used to provide three-dimensional interest in the tank. Decoration is a matter of taste, but it is vital to consider the welfare of the fish when making a selection. Marine organisms are sensitive to pollutants; even traces of metal, especially copper, may be toxic. Always buy tank decor from a reputable marine dealer and never be tempted to use household objects or items intended for a freshwater setup (such as bogwood). Do not overwhelm the aquarium; every item you place in the tank displaces valuable water. This reduces available swimming space and concentrates dissolved waste.
Rocks and corals
The basic component of a naturalistic marine tank is rock. Calcium-rich rocks, such as tufa, are ideal because, like crushed coral (see p.209), they have a buffering effect and help to control water acidity. Tufa has the additional advantage of being soft enough to carve into almost any shape. It also provides an excellent surface for colonization by marine invertebrates and algae. In fact, it can be difficult to distinguish well-colonized tufa from live rock.
Rock arrangements should ideally include some overhangs and bridges where the fish can shelter in semi-natural safety; the rocks should not be piled in solid walls, or against the sides of the tank, because this will impede water circulation, which is essential for effective oxygenation. Some aquarists like to add dead coral skeletons and shells to the tank; these can provide useful hiding places for smaller fish and invertebrates but are soon colonized and discolored by algae, which are hard to remove. Dead coral skeletons and shells carry toxins or even undesirable dormant organisms, so they should be sterilized by boiling for at least 30 minutes and then cooled before introduction to the tank. Many hobbyists prefer synthetic corals, which look far more convincing and natural than dead skeletons, and are free from these problems.

Live rock
The most beneficial of all tank decorations is live rock, which is made up of the compacted calcium-rich skeletons of longdead corals and other hard-shelled marine animals. Live rock naturally accumulates in areas adjacent to coral reefs, where its porous structure provides a home for diverse bacteria, invertebrates, and algae. When placed in an aquarium, live rock brings with it its population of beneficial organisms, which can significantly improve water quality in the tank.
With its many pores and pits colonized by microbes, the rock serves as a highly efficient biological filter, removing waste products, such as ammonia and nitrite, from the solution; algae and photosynthetic corals on the rock also take up the resulting nitrates. Indeed, live rock is so good at cleaning the water that, when used in conjunction with a protein skimming device (see p.211), it can eliminate the need for more complex filtration systems. Using live rock as the basis of filtration in a marine tank is known as the Berlin method.
Live rock has other benefits, too: it provides an ideal substrate for larger algae and invertebrates, such as anemones and sponges, and it is a living pantry for fish, which can browse on the teeming life it houses. Live rock benefits the simplest fish-only marine setup but is almost essential for the larger reef tank, where it provides the basis for any recreation of the reef habitat.
BUYING LIVE ROCK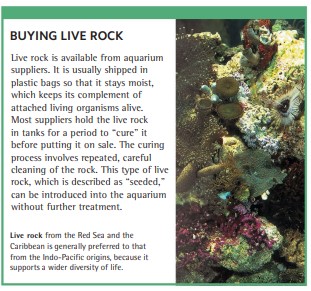 Live rock is available from aquarium suppliers. It is usually shipped in plastic bags so that it stays moist, which keeps its complement of attached living organisms alive. Most suppliers hold the live rock in tanks for a period to "cure" it before putting it on sale. The curing process involves repeated, careful cleaning of the rock. This type of live rock, which is described as "seeded," can be introduced into the aquarium without further treatment.
SAFETY CONCERNS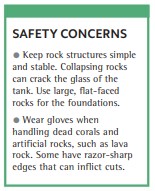 Keep rock structures simple and stable. Collapsing rocks can crack the glass of the tank. Use large, flat-faced rocks for the foundations.
Wear gloves when handling dead corals and artificial rocks, such as lava rock. Some have razor-sharp edges that can inflict cuts.
DECORATIVE ALGAE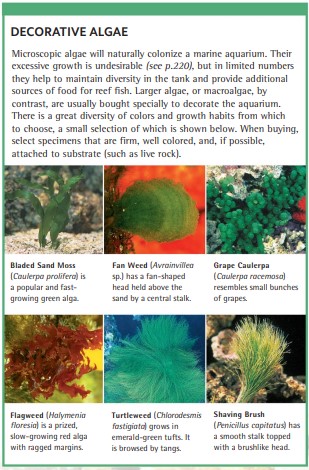 Microscopic algae will naturally colonize a marine aquarium. Their excessive growth is undesirable (see p.220), but in limited numbers they help to maintain diversity in the tank and provide additional sources of food for reef fish. Larger algae, or macroalgae, by contrast, are usually bought specially to decorate the aquarium. There is a great diversity of colors and growth habits from which to choose, a small selection of which is shown below. When buying, select specimens that are firm, well colored, and, if possible, attached to substrate (such as live rock).
Bladed Sand Moss (Caulerpa prolifera) is a popular and fastgrowing green alga.
Fan Weed (Avrainvillea sp.) has a fan-shaped head held above the sand by a central stalk.
Grape Caulerpa (Caulerpa racemosa) resembles small bunches of grapes.
Flagweed (Halymenia floresia) is a prized, slow-growing red alga with ragged margins.
Turtleweed (Chlorodesmis fastigiata) grows in emerald-green tufts. It is browsed by tangs.
Shaving Brush (Penicillus capitatus) has a smooth stalk topped with a brushlike head.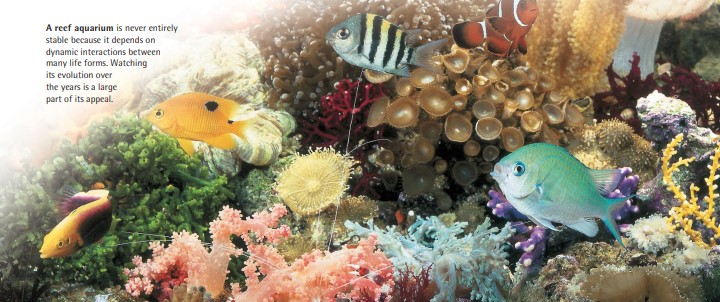 ---