Introduction to Marine Fish
Setting up the tank
Heating and filtration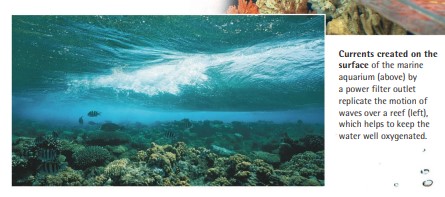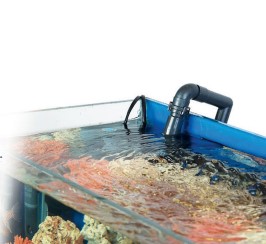 Tropical marine fish thrive at water temperatures of between 77°F (25°C) and 81°F (27°C). Their natural reef environment changes little from day to day, so they are poorly adapted to fluctuations in temperature and water quality. As a result, reef fish are far less tolerant of change than their freshwater cousins: creating and maintaining a constant environment is the key challenge when keeping such species in a home aquarium.
Unless you live in a particularly warm climate, you will need a heater to maintain the water temperature in your tank. Standard heaters contain a glass-encased heating element and have an integral thermostat, which switches the unit on and off to maintain a preset temperature. These heating units are available in a range of sizes and power ratings (wattages). You should allow a rating of about 1 watt per 1 ⁄4 gal (1 liter) of water, or up to 2 watts per 1 ⁄4 gallon (1 liter) if the ambient temperature is particularly low. Many aquarists prefer to use two slightly underpowered heaters to keep the water at the desired temperature, rather than a single, more powerful unit. The principle is that if one heater fails, the other will be able to keep the temperature at a reasonable level; and conversely, if one unit fails to switch off, it will be insufficiently powerful to overheat the tank.
Heater safety
The heater should be installed after all the rockwork and tank decor are in place—this will minimize the risk of accidental damage to its outer glass casing. It is also a good idea to fit a heater guard—a ventilated shield around the heater—to prevent any direct contact between fish and the body of the heater, which can cause serious burns. Never switch on the power until the heater is completely submerged, and always turn off the power before placing your hand in the water. A few species, notably boxfish (see pp.250–251), have extremely sharp teeth and will bite through the plastic casing of electrical cables that carry power to the heater. For these fish, it is safer to use undergravel heating units.
Types of filtration
Filtration is needed to rid the tank of toxic wastes, undesirable particles, and other dissolved chemicals. There are many different designs of filters, and their mode of action may be biological, mechanical, or chemical, or a combination of these.
Biological filters remove nitrite and ammonia from the water. They work by providing a home for bacteria that convert these natural waste products into harmless compounds. Mechanical filters remove particles by forcing water through some kind of filter cartridge. Some of these cartridges contain filter media that trap particles as small as 3 microns across and can be used periodically to scrub the water of bacteria and algal blooms. Chemical filters remove dissolved substances from the water, such as ozone, chlorine, heavy metals, and medications. Most work by forcing the water through a filter medium of activated carbon (a manufactured form of carbon that is highly porous). Chemical filters are useful for eliminating the yellow coloring that often develops in aquarium water.
HEAT DISTRIBUTION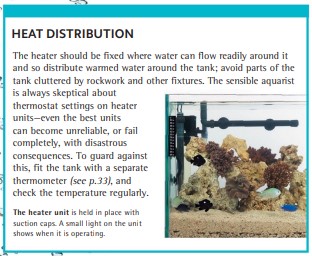 The heater should be fixed where water can flow readily around it and so distribute warmed water around the tank; avoid parts of the tank cluttered by rockwork and other fixtures. The sensible aquarist is always skeptical about thermostat settings on heater units—even the best units can become unreliable, or fail completely, with disastrous consequences. To guard against this, fit the tank with a separate thermometer, and check the temperature regularly
FILTRATION CHOICES
Two or more filters are often used in the same tank to maximize water quality and eliminate ammonia and nitrite, which reef fish cannot tolerate. Biological filters, such as undergravel and trickle designs (right), are often teamed with external power filters, which pump water through an external canister containing filter media such as sponge, filter wool, or activated carbon. The filtered water is then sprayed back into the tank through the fine holes of a spray bar—a process that helps oxygenate the water. Some aquariums feature ozonizers— units that produce bubbles of ozone gas to oxidize waste matter—or protein skimmers (below), which use yet another method to remove potentially harmful organic waste.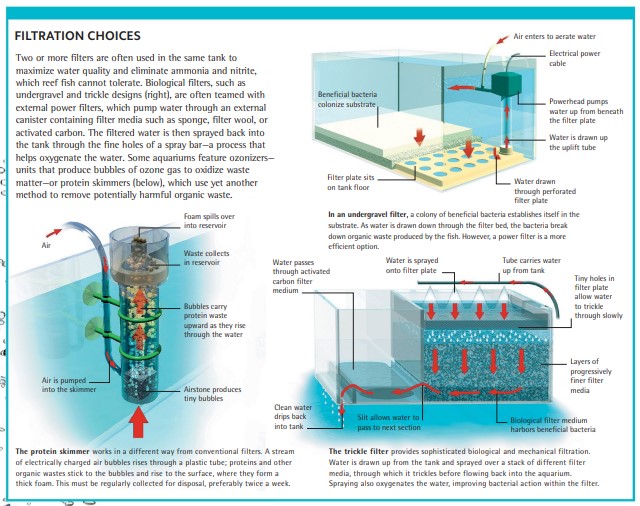 The protein skimmer works in a different way from conventional filters. A stream of electrically charged air bubbles rises through a plastic tube; proteins and other organic wastes stick to the bubbles and rise to the surface, where they form a thick foam. This must be regularly collected for disposal, preferably twice a week.
In an undergravel filter, a colony of beneficial bacteria establishes itself in the substrate. As water is drawn down through the filter bed, the bacteria break down organic waste produced by the fish. However, a power filter is a more efficient option.
The trickle filter provides sophisticated biological and mechanical filtration. Water is drawn up from the tank and sprayed over a stack of different filter media, through which it trickles before flowing back into the aquarium. Spraying also oxygenates the water, improving bacterial action within the filter.
WATER STERILIZATION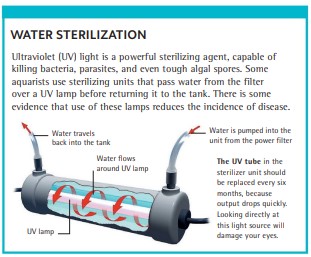 Ultraviolet (UV) light is a powerful sterilizing agent, capable of killing bacteria, parasites, and even tough algal spores. Some aquarists use sterilizing units that pass water from the filter over a UV lamp before returning it to the tank. There is some evidence that use of these lamps reduces the incidence of disease.
---