Introduction to Marine Fish
Illness and treatment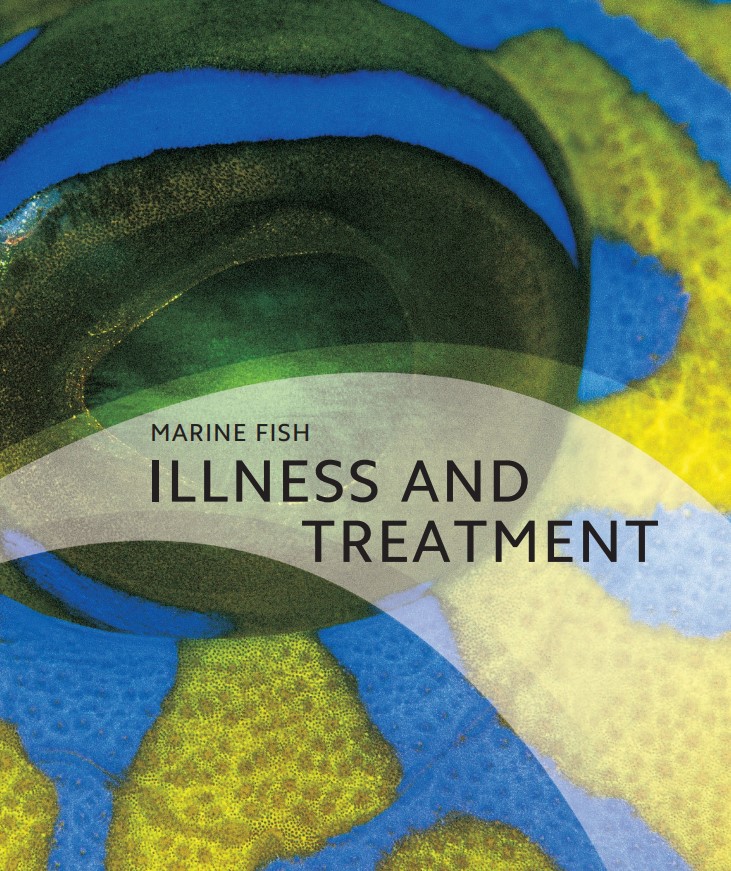 Health concerns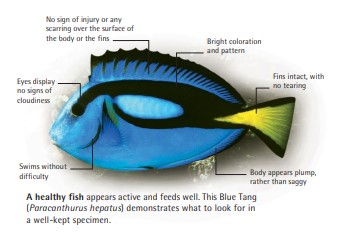 Most marine aquarium fish are natural inhabitants of coral reefs, which are among the most stable and unchanging of all ecosystems on the planet. Many of the health problems suffered by marine aquarium fish therefore stem from fluctuations in water quality in the home tank. Maintaining suitable water conditions will keep the fish in the best condition to repel pathogens and parasites.
Isolation and establishment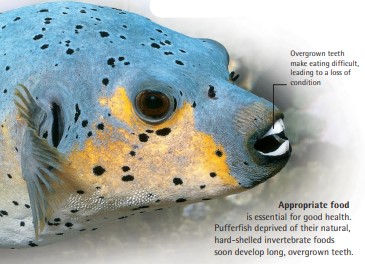 A long-established, well-maintained marine tank rarely succumbs to disease. Most health problems experienced by marine fish are seen when a tank is immature, or when new animals or plants are introduced, along with unwanted pathogens. Marine species are vulnerable to a range of bacterial, viral, fungal, and especially parasitic diseases, which spread quickly if fish are kept in suboptimal conditions— for example, during transportation.
For this reason, newly acquired fish should always be transferred to a separate tank for two weeks before entering the main tank. This isolation tank should be set up and run from the outset in parallel with the main tank. It need not be large, and tank decor should be kept to a minimum for ease of cleaning. The fish in the isolation tank should be fed well and encouraged to take foods such as marine flake, which contain all the key vitamins and minerals. When you are satisfied that the fish are well nourished and free from disease, they can be transferred carefully to the main tank.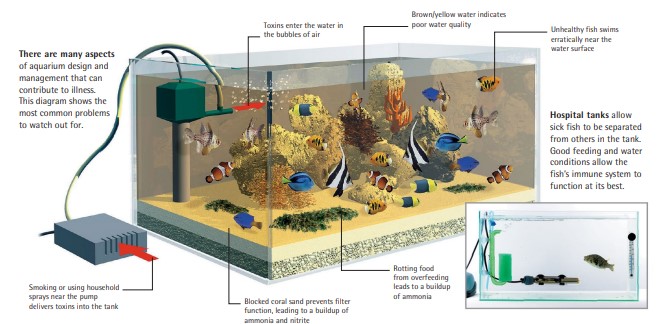 Health problems can also occur when changes take place in the environment (see opposite). In a reef tank, for example, corals rapidly take up elements such as calcium, which they incorporate into their hard skeletons. The depletion of calcium affects the health not only of corals but also of other tank inhabitants, so regular monitoring and partial water changes help to maintain a healthy environment.
Choosing fish
Most problems can be avoided by careful selection at the outset. Avoid individuals with any signs of ill health; juveniles are preferable to mature individuals, which are hard to age and therefore may be very old and more susceptible to illness. Young fish acclimatize better to aquarium life and are more likely to be compatible with their tankmates.
Treatment and medication
Drugs are available to treat many conditions of marine fish; a good retailer will guide you to the most suitable. Treatments should be carried out in an isolation tank or bath, rather than in the main aquarium itself; this is because the remedies may contain copper or other elements that are toxic to invertebrates. Before moving the fish back into the main tank, remove any copper by using carbon in the filtration system of the isolation tank; check the water with a copper test kit.
Water treatment
Some conditions of marine fish, especially parasitic infestations, can be treated rapidly and effectively by exposure to fresh water, with no medication necessary. These treatments work by upsetting the internal balance of water and body salts within parasites—a process called osmotic shock. Bear in mind that they will affect the patient in a similar way so must be carried out very carefully to minimize stresses.
Treatment should be administered in a basic acrylic tank filled with dechlorinated tap water and heated to the same temperature as the water in the main aquarium. The pH of the tank should be raised to the appropriate level by adding one teaspoonful of sodium bicarbonate to 1 gallon (4 liters) of water. All water parameters should be checked before introducing the sick fish.
Do not leave the fish during treatment, and monitor and watch its behavior closely. It is normal for marine fish to lie on their sides and breathe heavily when being treated, but if you think the fish is in distress, return it to the saltwater tank without delay. As a general rule, fish should be immersed for no longer than five minutes for successful treatment.
UNWANTED GUESTS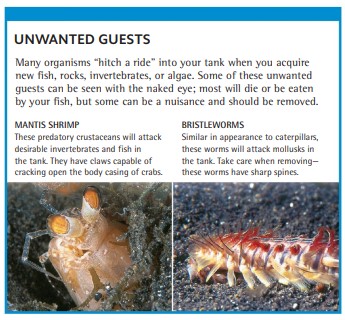 Many organisms "hitch a ride" into your tank when you acquire new fish, rocks, invertebrates, or algae. Some of these unwanted guests can be seen with the naked eye; most will die or be eaten by your fish, but some can be a nuisance and should be removed.
MANTIS SHRIMP: These predatory crustaceans will attack desirable invertebrates and fish in the tank. They have claws capable of cracking open the body casing of crabs.
BRISTLEWORMS: Similar in appearance to caterpillars, these worms will attack mollusks in the tank. Take care when removing— these worms have sharp spines.
INVERTEBRATE HEALTH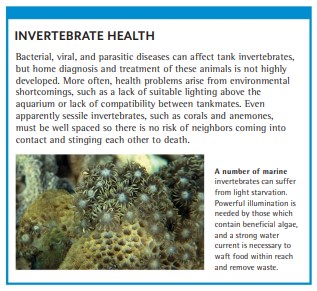 Bacterial, viral, and parasitic diseases can affect tank invertebrates, but home diagnosis and treatment of these animals is not highly developed. More often, health problems arise from environmental shortcomings, such as a lack of suitable lighting above the aquarium or lack of compatibility between tankmates. Even apparently sessile invertebrates, such as corals and anemones, must be well spaced so there is no risk of neighbors coming into contact and stinging each other to death.
DANGEROUS FISH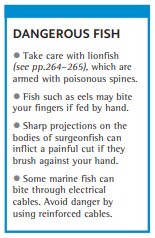 Take care with lionfish, which are armed with poisonous spines.
Fish such as eels may bite your fingers if fed by hand.
Sharp projections on the bodies of surgeonfish can inflict a painful cut if they brush against your hand.
Some marine fish can bite through electrical cables. Avoid danger by using reinforced cables.
DIAGNOSIS OF COMMON PROBLEMS
Watching fish in your home aquarium every day gives you an instinctive awareness of developing health problems. Assessing the fitness of an unfamiliar fish—when browsing in a store, for example— is more difficult. In general, active fish that show good appetites are likely to be reasonably healthy. The primary causes of illness, especially in marine species, are just as likely to be environmental as pathogenic, so always check the water parameters carefully.
The tables on the following pages will help you diagnose the most common conditions affecting marine species and point you toward appropriate treatments. First, in the table below, identify the part of the fish's body that appears to be affected. Next, find the signs of illness that most closely match those displayed by the fish. Note the number(s) associated with the relevant signs, and refer to pages 227 and 228 for a fuller description of the possible conditions and their treatment.
EYES

Eye missing from the socket, with no other symptoms or abnormalities evident ⑮
Bulging eye or eyes, together with swollen belly and raised scales ⑭
Eyes become cloudy in appearance ① ② ⑥ ⑨
Fish persistently rubs its head on rocks or on the walls of the aquarium ⑤
Small white spots evident on the eyes and possibly also elsewhere on the body ①
One eye appears white in color, while the other is normal ⑭
SKIN

Ulceration develops on the surface of the body ⑤ ⑨
Scales disappear from the body ① ⑤ ⑧ ⑮
Velvetlike patches on the skin ①
Gas bubbles visible under the skin ⑭
Lumps or more distinct cauliflower-like swellings develop on the body ⑫
Skin starts to slough off the body ⑧
Skin has a more slimy appearance than normal ① ② ③ ④ ⑤ ⑧ ⑯
FINS

Fins appear frayed at their edges ⑨
Fins display prominent tears ⑮
Fins have evident reddish bases; most apparent in pale-colored fish ⑨ ⑩
Fin rays exposed; fish loses appetite ⑩
Pieces missing from the fins; especially evident in largerfinned species ⑮
Golden-brown spots are evident on the fins, as well as on the body ①
Fin posture changes, with caudal fin clamped shut. Ability to swim and activity are reduced ⑰ ⑲
COLOR

The fish darkens in color, accompanied by a range of other symptoms, such as loss of activity ⑤ ⑰
Blood visible; signs of hemorrhaging into the water from the body ② ③
Duller than usual, often with tiny golden spots ①
White spots appear over the surface of the body ① ②
Dark, blackish spots are evident over the body ④
Irregular patches indicating loss of color ⑨
Abnormal patches of color, paler than the surrounding areas. These may enlarge and coalesce ① ⑪ ⑬
SHAPE

Fish becomes swollen, notably in the vicinity of the belly ⑦ ⑨
Relatively large, flattened object(s) evident on the flanks of the fish ⑤
Profile of the fish starts to alter, with its spine becoming abnormally curved ⑪
Fish develops an emaciated appearance ⑦ ⑩ ⑪ ⑬ ⑳
Holes start to develop in the vicinity of the head and on the sides of the body ⑤
Lips of the fish appear swollen, and there may be some loss of appetite ⑲
BEHAVIOR

One individual is persecuted by one or more other individuals in the tank ⑮
Fish displays abnormal swimming pattern ⑬ ⑰ ⑱ ⑲
Gasping at the surface, with the fish sometimes trying to jump out of the tank ⑱ ⑲
Fish scrapes its body against rockwork ② ④ ⑥ ⑯
Fish appears to be disoriented and has difficulty maintaining its balance ⑬ ⑰ ⑱
Respiratory rate alters markedly; the fish often has obvious difficulty breathing ① ② ③ ⑥ ⑨
PARASITES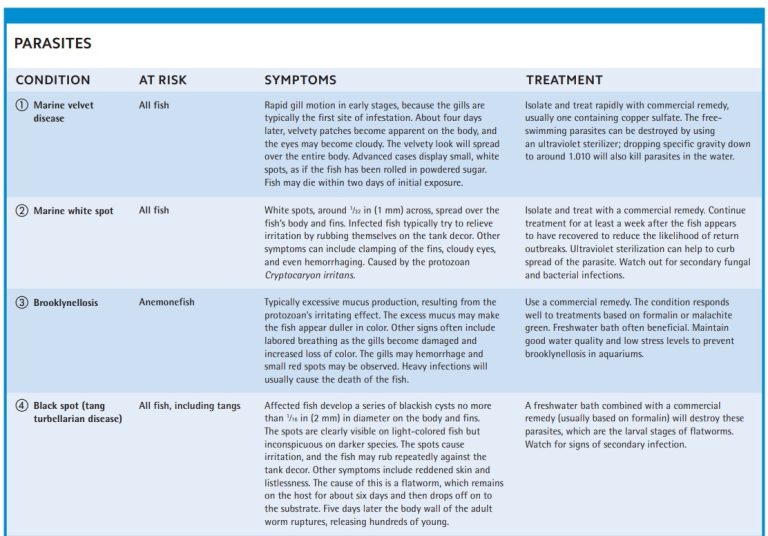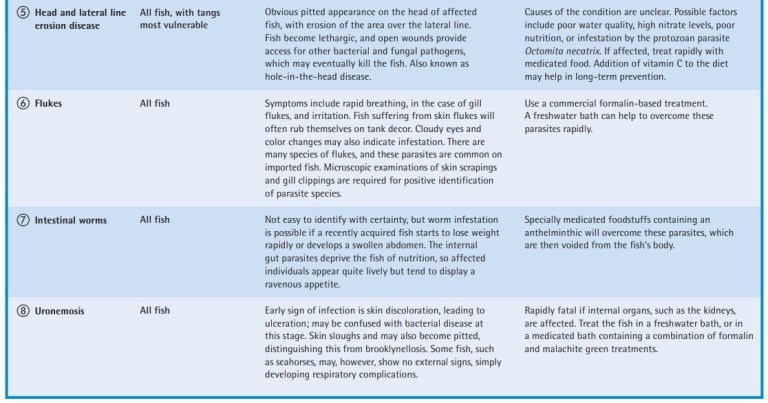 ① Marine velvet disease – All fish – Rapid gill motion in early stages, because the gills are typically the first site of infestation. About four days later, velvety patches become apparent on the body, and the eyes may become cloudy. The velvety look will spread over the entire body. Advanced cases display small, white spots, as if the fish has been rolled in powdered sugar. Fish may die within two days of initial exposure. – Isolate and treat rapidly with commercial remedy, usually one containing copper sulfate. The freeswimming parasites can be destroyed by using an ultraviolet sterilizer; dropping specific gravity down to around 1.010 will also kill parasites in the water.
② Marine white spot – All fish – White spots, around 1 ⁄32 in (1 mm) across, spread over the fish's body and fins. Infected fish typically try to relieve irritation by rubbing themselves on the tank decor. Other symptoms can include clamping of the fins, cloudy eyes, and even hemorrhaging. Caused by the protozoan Cryptocaryon irritans. – Isolate and treat with a commercial remedy. Continue treatment for at least a week after the fish appears to have recovered to reduce the likelihood of return outbreaks. Ultraviolet sterilization can help to curb spread of the parasite. Watch out for secondary fungal and bacterial infections.
③ B Brooklynellosis – Anemonefish – Typically excessive mucus production, resulting from the protozoan's irritating effect. The excess mucus may make the fish appear duller in color. Other signs often include labored breathing as the gills become damaged and increased loss of color. The gills may hemorrhage and small red spots may be observed. Heavy infections will usually cause the death of the fish. – Use a commercial remedy. The condition responds well to treatments based on formalin or malachite green. Freshwater bath often beneficial. Maintain good water quality and low stress levels to prevent brooklynellosis in aquariums.
④ Black spot (tang turbellarian disease) – All fish, including tangs – Affected fish develop a series of blackish cysts no more than 1 ⁄16 in (2 mm) in diameter on the body and fins. The spots are clearly visible on light-colored fish but inconspicuous on darker species. The spots cause irritation, and the fish may rub repeatedly against the tank decor. Other symptoms include reddened skin and listlessness. The cause of this is a flatworm, which remains on the host for about six days and then drops off on to the substrate. Five days later the body wall of the adult worm ruptures, releasing hundreds of young. – Use a commercial remedy. The condition responds well to treatments based on formalin or malachite green. Freshwater bath often beneficial. Maintain good water quality and low stress levels to prevent brooklynellosis in aquariums.
⑤ Head and lateral line erosion disease – All fish, with tangs most vulnerable – Obvious pitted appearance on the head of affected fish, with erosion of the area over the lateral line. Fish become lethargic, and open wounds provide access for other bacterial and fungal pathogens, which may eventually kill the fish. Also known as hole-in-the-head disease. – Causes of the condition are unclear. Possible factors include poor water quality, high nitrate levels, poor nutrition, or infestation by the protozoan parasite Octomita necatrix. If affected, treat rapidly with medicated food. Addition of vitamin C to the diet may help in long-term prevention.
⑥ Flukes – All fish – Symptoms include rapid breathing, in the case of gill flukes, and irritation. Fish suffering from skin flukes will often rub themselves on tank decor. Cloudy eyes and color changes may also indicate infestation. There are many species of flukes, and these parasites are common on imported fish. Microscopic examinations of skin scrapings and gill clippings are required for positive identification of parasite species. – Use a commercial formalin-based treatment. A freshwater bath can help to overcome these parasites rapidly
⑦ Intestinal worms – All fish – Not easy to identify with certainty, but worm infestation is possible if a recently acquired fish starts to lose weight rapidly or develops a swollen abdomen. The internal gut parasites deprive the fish of nutrition, so affected individuals appear quite lively but tend to display a ravenous appetite. – Specially medicated foodstuffs containing an anthelminthic will overcome these parasites, which are then voided from the fish's body.
⑧ Uronemosis – All fish – Early sign of infection is skin discoloration, leading to ulceration; may be confused with bacterial disease at this stage. Skin sloughs and may also become pitted, distinguishing this from brooklynellosis. Some fish, such as seahorses, may, however, show no external signs, simply developing respiratory complications. – Rapidly fatal if internal organs, such as the kidneys, are affected. Treat the fish in a freshwater bath, or in a medicated bath containing a combination of formalin and malachite green treatments.
BACTERIAL, VIRAL, AND FUNGAL DISEASES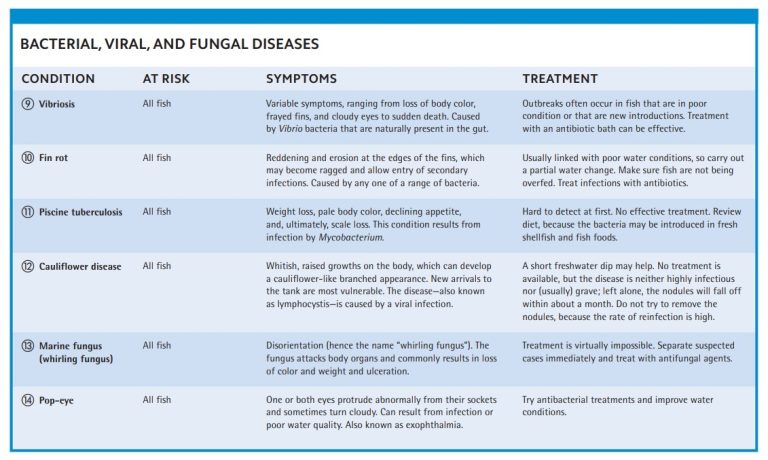 ⑨ Vibriosis – All fish – Variable symptoms, ranging from loss of body color, frayed fins, and cloudy eyes to sudden death. Caused by Vibrio bacteria that are naturally present in the gut. – Outbreaks often occur in fish that are in poor condition or that are new introductions. Treatment with an antibiotic bath can be effective.
⑩ Fin rot – All fish – Reddening and erosion at the edges of the fins, which may become ragged and allow entry of secondary infections. Caused by any one of a range of bacteria. – Usually linked with poor water conditions, so carry out a partial water change. Make sure fish are not being overfed. Treat infections with antibiotics.
⑪ Piscine tuberculosis – All fish – Weight loss, pale body color, declining appetite, and, ultimately, scale loss. This condition results from infection by Mycobacterium. – Hard to detect at first. No effective treatment. Review diet, because the bacteria may be introduced in fresh shellfish and fish foods.
⑫ Cauliflower disease – All fish – Whitish, raised growths on the body, which can develop a cauliflower-like branched appearance. New arrivals to the tank are most vulnerable. The disease—also known as lymphocystis—is caused by a viral infection. – A short freshwater dip may help. No treatment is available, but the disease is neither highly infectious nor (usually) grave; left alone, the nodules will fall off within about a month. Do not try to remove the nodules, because the rate of reinfection is high.
⑬ Marine fungus (whirling fungus) – All fish – Disorientation (hence the name "whirling fungus"). The fungus attacks body organs and commonly results in loss of color and weight and ulceration. – Treatment is virtually impossible. Separate suspected cases immediately and treat with antifungal agents.
⑭ Pop-eye – All fish – One or both eyes protrude abnormally from their sockets and sometimes turn cloudy. Can result from infection or poor water quality. Also known as exophthalmia. – Try antibacterial treatments and improve water conditions.
ENVIRONMENTAL CONDITIONS AND INJURIES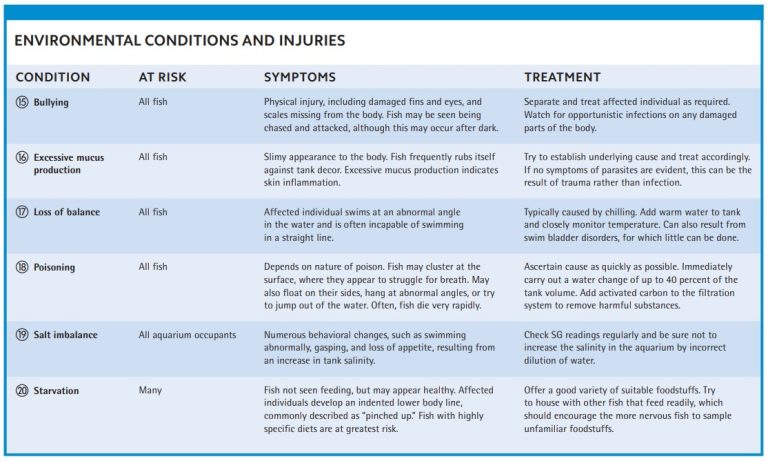 ⑮ Bullying – All fish – Physical injury, including damaged fins and eyes, and scales missing from the body. Fish may be seen being chased and attacked, although this may occur after dark. – Separate and treat affected individual as required. Watch for opportunistic infections on any damaged parts of the body
⑯ Excessive mucus production – All fish – Slimy appearance to the body. Fish frequently rubs itself against tank decor. Excessive mucus production indicates skin inflammation. – Try to establish underlying cause and treat accordingly. If no symptoms of parasites are evident, this can be the result of trauma rather than infection.
⑰ Loss of balance – All fish – Affected individual swims at an abnormal angle in the water and is often incapable of swimming in a straight line. – Typically caused by chilling. Add warm water to tank and closely monitor temperature. Can also result from swim bladder disorders, for which little can be done.
⑱ Poisoning – All fish – Depends on nature of poison. Fish may cluster at the surface, where they appear to struggle for breath. May also float on their sides, hang at abnormal angles, or try to jump out of the water. Often, fish die very rapidly. – Ascertain cause as quickly as possible. Immediately carry out a water change of up to 40 percent of the tank volume. Add activated carbon to the filtration system to remove harmful substances.
⑲ Salt imbalance – All aquarium occupants – Numerous behavioral changes, such as swimming abnormally, gasping, and loss of appetite, resulting from an increase in tank salinity. – Check SG readings regularly and be sure not to increase the salinity in the aquarium by incorrect dilution of water.
⑳ Starvation – Many – Fish not seen feeding, but may appear healthy. Affected individuals develop an indented lower body line, commonly described as "pinched up." Fish with highly specific diets are at greatest risk. – Offer a good variety of suitable foodstuffs. Try to house with other fish that feed readily, which should encourage the more nervous fish to sample unfamiliar foodstuffs.
---