Introduction to Freshwater Fish
Maintenance
Feeding the fish
Feeding time offers the best opportunity to see your fish at close quarters and monitor their well-being. It is also an opportunity to tame your fish, especially if you feed them at the same times each day. Freshwater fish can be given a wide range of foods, but commercial products are the most convenient and also the safest option, since diseases may be introduced to the tank along with invertebrate live foods, such as tubifex worms.
Fish require the same key food groups as humans—proteins, carbohydrates, fats, vitamins, and minerals. Protein is vital for healthy growth, especially in young fish. Raising the level of protein in the diet—by providing more live foods, for example— helps to bring fish into breeding condition. Carbohydrates fuel the body's processes, and fat forms a protective cushion around organs and acts as an energy store. Vitamins and minerals are important for a fish's metabolism and overall health. Vitamin C, for example, helps protect against infection, while calcium and phosphorus are essential for sound skeletal structure.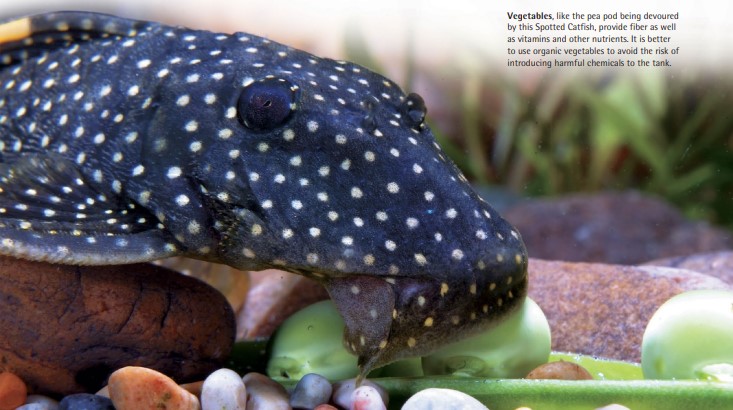 Quantity and frequency
Most fish-food packaging gives few details about the quantity that should be used, largely because this depends on the number and size of the fish in the tank. As a rule of thumb, feed fish little and often—offer food three or four times a day, providing no more than will be eaten within two or three minutes. In a mature tank, there will be edible items, such as algae, for the fish to browse on outside of their set feeding times.
Avoid overfeeding—unwanted food scraps will pollute the water, impairing the health of the fish. Providing an unbalanced diet also causes problems: an excess of fat, for example, leads to obesity, shortening a fish's life and possibly causing sterility. Guard against underfeeding, too. Fry, which need to eat more regularly than adults, may become stunted or deformed if they are underfed. Using dedicated fry foods will ensure that they get the nutrients they need. In a community aquarium, make sure nervous fish get a chance to feed; otherwise, they, too, may become malnourished. A number of catfish are night feeders, so drop food into their tank just before lights-out.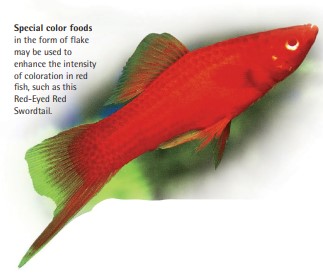 SPECIALIST DIETS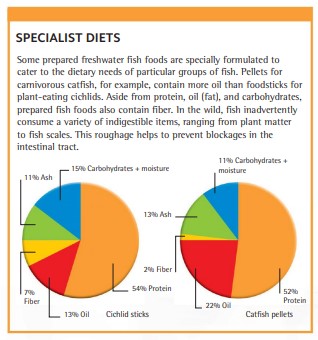 Some prepared freshwater fish foods are specially formulated to cater to the dietary needs of particular groups of fish. Pellets for carnivorous catfish, for example, contain more oil than foodsticks for plant-eating cichlids. Aside from protein, oil (fat), and carbohydrates, prepared fish foods also contain fiber. In the wild, fish inadvertently consume a variety of indigestible items, ranging from plant matter to fish scales. This roughage helps to prevent blockages in the intestinal tract.
TYPES OF FOOD
Commercially prepared foods sometimes need to be supplemented with fresh items and live foods. Freeze-dried live foods tend to be less palatable to fish than thawed live foods, because they have a lower water content. Some live foods can be cultured at home: a container of water left outdoors in summer will attract breeding midges and mosquitoes, and their larvae can be removed with a sieve. The way in which food is presented to the fish is also important. The means of delivery should take account of the fish's normal feeding habits. Bottom-feeding catfish, for example, are unlikely to be tempted by flake floating on the surface.

PREPARED FOODS
Pellets are good for large fish, such as pacus, which can swallow them whole. They may float for a time before sinking.
Granules are more dense than pellets and sink rapidly to the floor of the aquarium, making them ideal for bottom dwellers
Flake floats, so it will attract fish to the surface to feed. Suitable for smaller fish, it can also be powdered and fed to fry
Tablets are useful for group feeding. They are too large to be swallowed whole so give the fish time to take
LIVE FOODS
Brine shrimp in their larval form, called nauplii, are ideal for rearing fry. They can be hatched from eggs at home.
Daphnia ("water fleas") are a good conditioning food for smaller fish. These crustaceans can also be used to enhance color.
Chironomus worms, also known as bloodworms because of their color, are actually the larval form of a type of midge.
Mosquito larvae are eagerly eaten by many surfacedwelling fish. They may also help to stimulate breeding behavior.
FRESH FOODS
Carrot was used as a natural coloring agent before there were commercial color foods. It is high in fiber and may aid fertility
Sliced cucumber and zucchini are a good source of vitamins and roughage for herbivorous catfish and some cichlids.
Shelled peas, both fresh and thawed, are a good dietary supplement for bottom dwellers; avoid using salted canned peas.
Beef heart, trimmed of fat, should be used sparingly, since it pollutes the water and may cause obesity in fish.
VACATION SOLUTIONS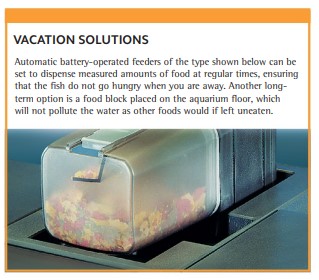 Automatic battery-operated feeders of the type shown below can be set to dispense measured amounts of food at regular times, ensuring that the fish do not go hungry when you are away. Another longterm option is a food block placed on the aquarium floor, which will not pollute the water as other foods would if left uneaten.