Introduction to FISHKEEPING
Evolution and classification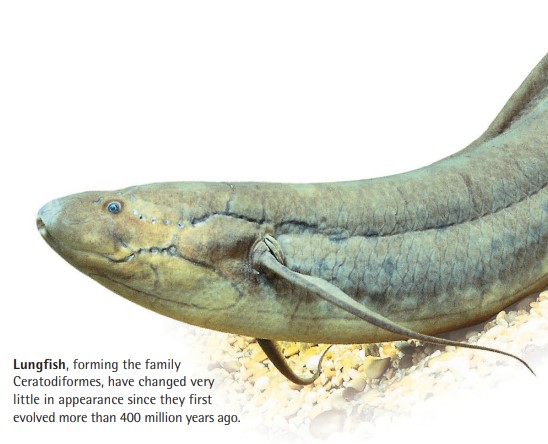 Fish are the oldest of all vertebrates (animals with backbones), with an ancestry dating back more than 500 million years. However, the earliest fish to appear in the world's oceans were very different from those seen today, since they had no jaws or scales. They lacked specialized fins, so they relied solely on tail movements to propel them through the water. Internally, their spine was made of cartilage, rather than bone.
The first scaly fish with movable jaws arose around 440 million years ago, their jaws having evolved from the front gill arches. These fish also possessed several pairs of spines along the lower sides of the body, from which paired fins later developed.
Fish did not colonize freshwater habitats until comparatively recently in their history, but by about 66 million years ago, there were recognizable forerunners of many of today's freshwater species, including Hypsidoris, a primitive catfish with sensory barbels and protective spines on its pectoral fins.
With the exception of lampreys and hagfish, which are distant relatives of the early jawless fish, living fish fall into one of two groups. Sharks, rays, and their relatives are Chondrichthyes (cartilaginous fish), in which the skeleton is made of cartilage. The remainder, making up about 95 percent of all fish, are Osteichthyes (bony fish), which have a bony skeleton. Bony fish form the most diverse group of vertebrates on the planet, with about 23,500 different species.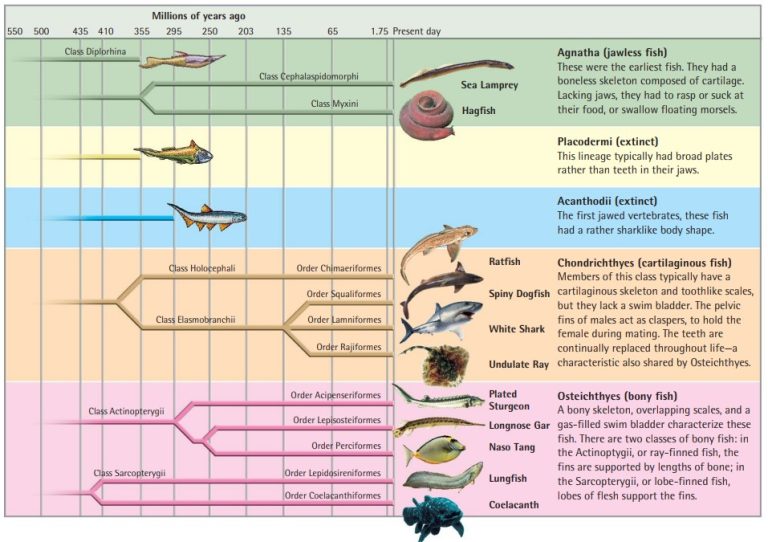 Agnatha (jawless fish) These were the earliest fish. They had a boneless skeleton composed of cartilage. Lacking jaws, they had to rasp or suck at their food, or swallow floating morsels.
Placodermi (extinct) This lineage typically had broad plates rather than teeth in their jaws.
Acanthodii (extinct) The first jawed vertebrates, these fish had a rather sharklike body shape.
Chondrichthyes (cartilaginous fish) Members of this class typically have a cartilaginous skeleton and toothlike scales, but they lack a swim bladder. The pelvic fins of males act as claspers, to hold the female during mating. The teeth are continually replaced throughout life—a characteristic also shared by Osteichthyes.
Osteichthyes (bony fish) A bony skeleton, overlapping scales, and a gas-filled swim bladder characterize these fish. There are two classes of bony fish: in the Actinoptygii, or ray-finned fish, the fins are supported by lengths of bone; in the Sarcopterygii, or lobe-finned fish, lobes of flesh support the fins.
How fish are classified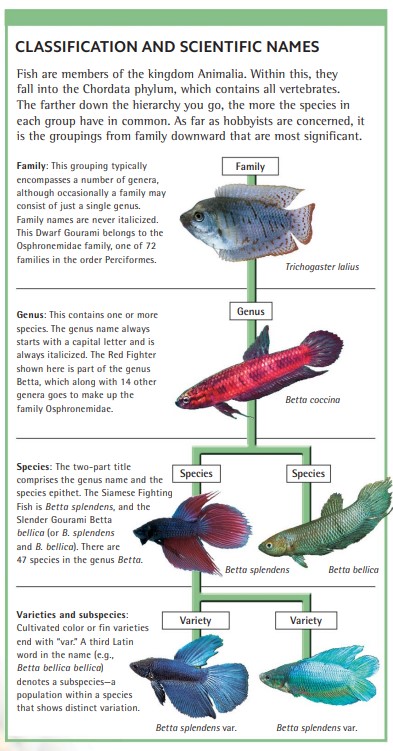 The classification of living things is called taxonomy. The basic unit of classification is the species—a collection of similar organisms that are capable of breeding together in the wild and producing fertile offspring. Related species are organized into groups called genera, which in turn are arranged into families. The grouping process continues, working upward through ever larger and more general groups known as orders, classes, phyla, and, lastly, kingdoms—the highest level in the hierarchy.
An integral part of classification is assigning unique scientific names to individual species. Although scientific names may seem unwieldy because they are usually in Latin, they are understood by scientists around the world and so are far more useful than common names, which often differ from country to country.
When a new fish is discovered, certain procedures have to be followed before it can be identified as a species in its own right. First, a specimen is lodged with a scientific institute, such as a museum. This is called the type specimen. Then a detailed description is published in a recognized scientific publication. Finally, the fish is ascribed a scientific name and placed in the genus containing those species to which it is most closely related. At present, classification relies primarily on comparing the anatomical features of the type specimen to those of other species, but DNA analysis is increasingly being used, since it gives a more accurate picture of the relationships between organisms.
The difficulties inherent in recognizing and differentiating both species and subspecies has led the aquarium trade to develop its own classification system, known as L-numbering, for loricariid catfish (see pp.128–131)— a little-studied family that shows remarkable diversity in appearance. This system uses numbers prefixed by the letter "L" to identify individual pattern and color forms that are not currently recognized by scientists. It sometimes happens that by the time a species is formally classified, it already has several L-numbers associated with it throughout its range.
CLASSIFICATION AND SCIENTIFIC NAMES
Fish are members of the kingdom Animalia. Within this, they fall into the Chordata phylum, which contains all vertebrates. The farther down the hierarchy you go, the more the species in each group have in common. As far as hobbyists are concerned, it is the groupings from family downward that are most significant.
Family: This grouping typically encompasses a number of genera, although occasionally a family may consist of just a single genus. Family names are never italicized. This Dwarf Gourami belongs to the Osphronemidae family, one of 72 families in the order Perciformes.
Genus: This contains one or more species. The genus name always starts with a capital letter and is always italicized. The Red Fighter shown here is part of the genus Betta, which along with 14 other genera goes to make up the family Osphronemidae.
Species: The two-part title comprises the genus name and the species epithet. The Siamese Fighting Fish is Betta splendens, and the Slender Gourami Betta bellica (or Betta splendens and Betta bellica). There are 47 species in the genus Betta.
Varieties and subspecies: Cultivated color or fin varieties end with "var." A third Latin word in the name (e.g., Betta bellica bellica) denotes a subspecies—a population within a species that shows distinct variation.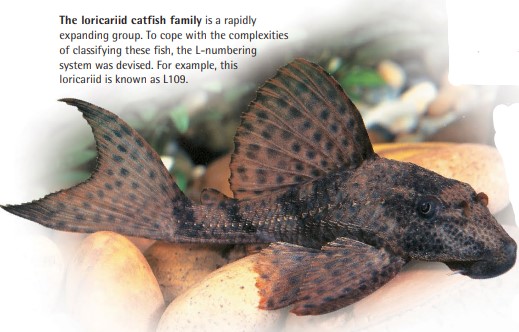 ---