How to use this book
This encyclopedia is divided into three main sections, covering freshwater aquariums, marine aquariums, and ponds. Each section includes practical advice on how to care for your fish, along with a directory of relevant species, organized into related groups.
Practical pages tell you how to set up the tank, feed the fish, monitor health and treat illness, and encourage breeding. Photographic step-by-step sequences illustrate important care and maintenance tasks.
Each group of fish is introduced with an overview of the defining characteristics.
Feature boxes in the directories of fish and invertebrates give fascinating insights into the lifestyles of fish and reveal amazing adaptations to different habitats.
Specially commissioned photographs provide stunning close-ups of fish behavior and anatomical features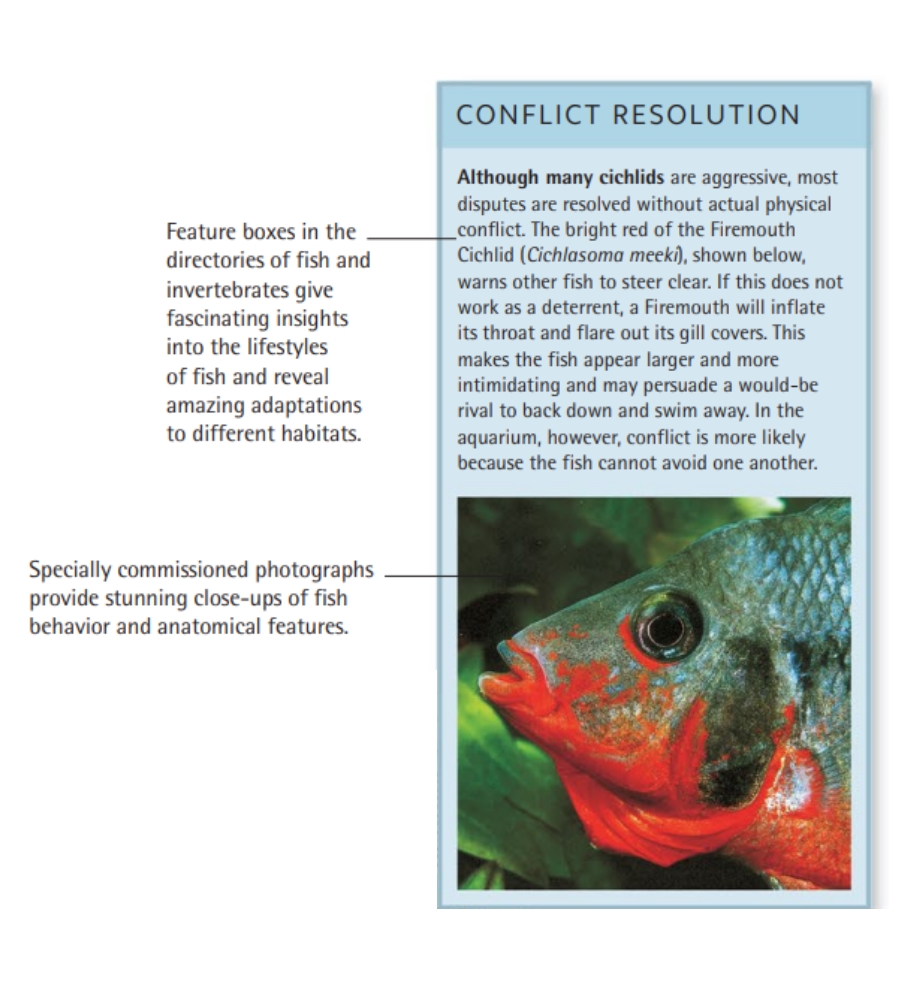 The fish's scientific name appears in italics on a colored band.
The most widely used common name appears below the scientific name. Alternative common names may be found in the index at the back of the book.
Key information for hobbyists is provided in at-a-glance form.
Color photographs aid identification. Annotation highlights notable features. Note that a fish's appearance can be affected by such things as its age, and lighting conditions may affect how it appears in a photograph.
Text profile describes the fish's color, patterning, and physical features. It also gives information on care and breeding.
Directory entries enable hobbyists to choose fish for their tank and compare related species.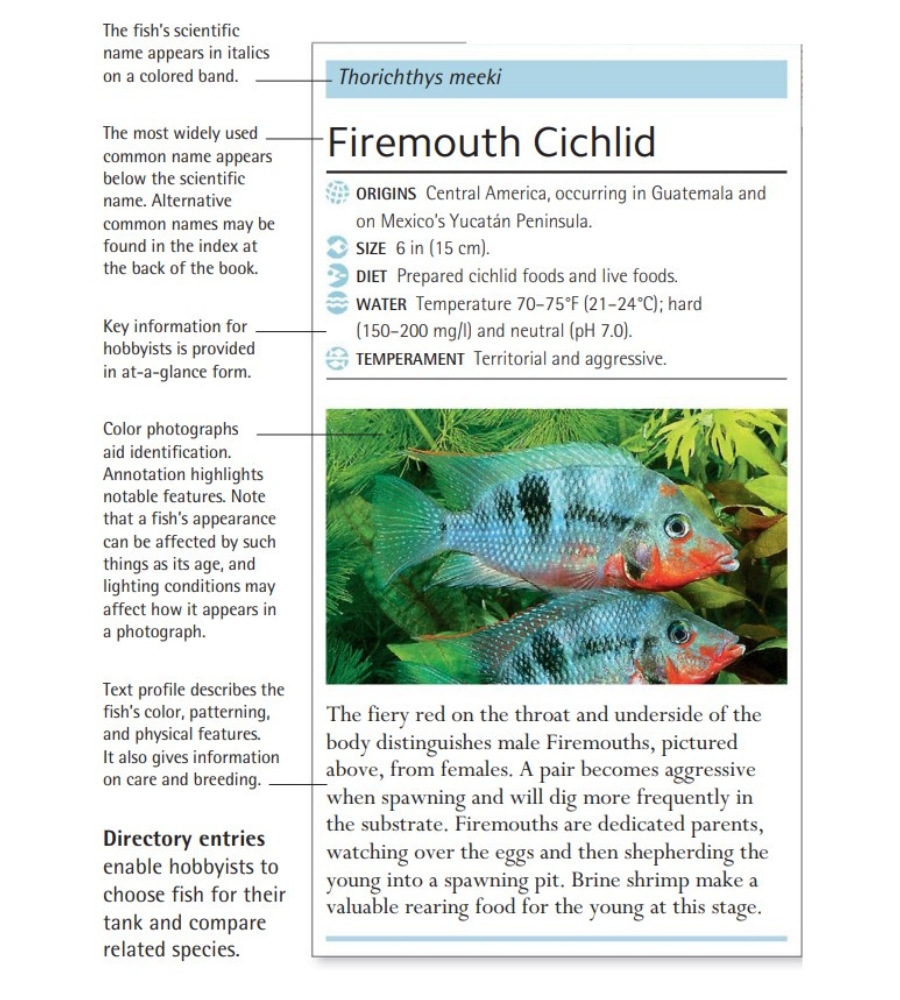 SYMBOLS AND DATA
FISH
Core facts in each directory entry are presented in a concise format, prefixed by easily identifiable symbols for quick reference.
ORIGINS—the natural distribution of the species in the wild.
SIZE—the typical adult size in aquariums or ponds, from the snout to the end of the caudal peduncle. A wild size may also be given if this is very different.
DIET—the feeding preferences of the fish and the typical foodstuffs that should be offered in aquariums or ponds.
WATER—the temperature range and water chemistry (hardness, salinity, and pH) required in the fish's tank.
TEMPERAMENT—the compatibility of the fish with its own kind and with other tank or pond occupants.
PLANTS
In plant entries, the water data may also include hardiness (the plant's resistance to cold) and a suggested planting depth.
SIZE—the plant's height, its spread over the water's surface, or the dimensions of its leaves.
PROPAGATION—ways in which the plant can be propagated by hobbyists.
INVERTEBRATES
Data are similar to those for fish but less standardized, because invertebrates are more diverse.
SIZE—the key dimension of a typical mature adult (e.g., body length in crustaceans, diameter in starfish).
DIET—the animal's feeding habits, along with feeding tips for hobbyists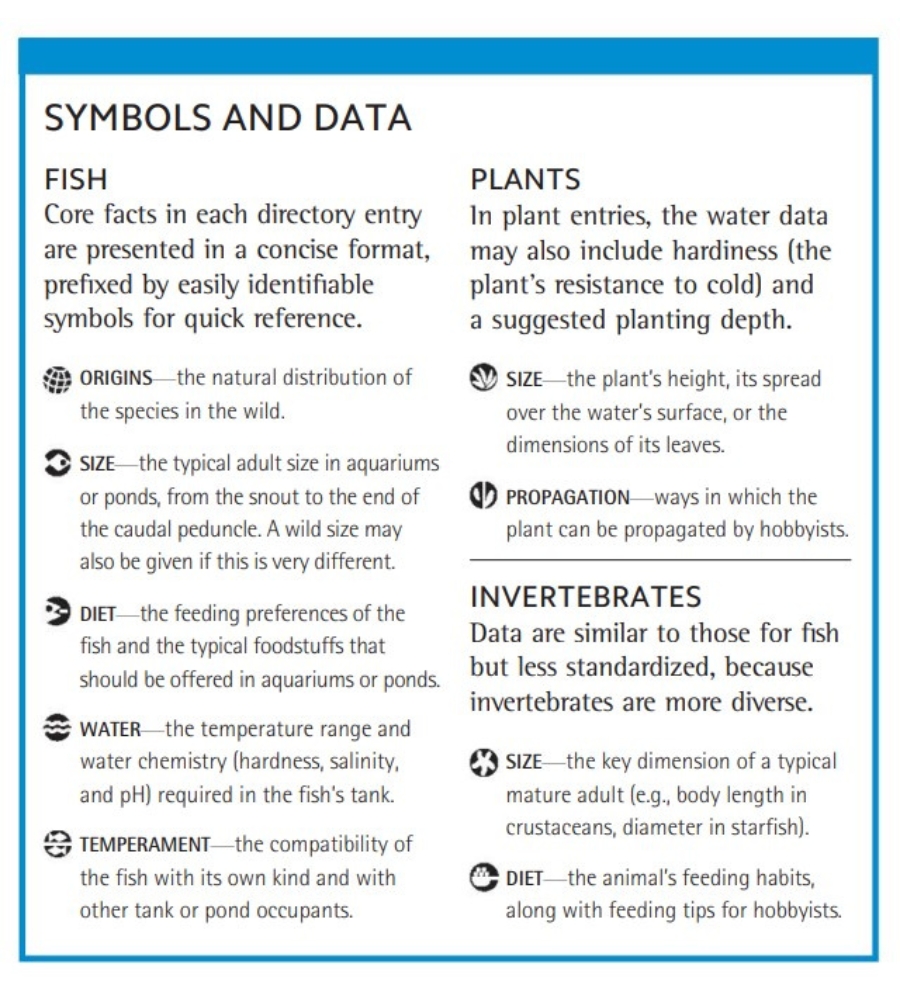 ---