Directory of Freshwater Fish
Other African species
Africa is home to a wide range of unique and fascinating fish. The fossil record shows that some of these, notably the African lungfish (see opposite), have altered relatively little over millions of years. Lungfish and similar species, such as Cuvier's Bichir, are most likely to be seen in specialist aquatic stores, partly because they can be difficult to keep. The long-snouted mormyrids, or "elephant fish," rank among the most popular of the other African groups, thanks to their bizarre appearance. They also have the ability to generate weak electrical currents.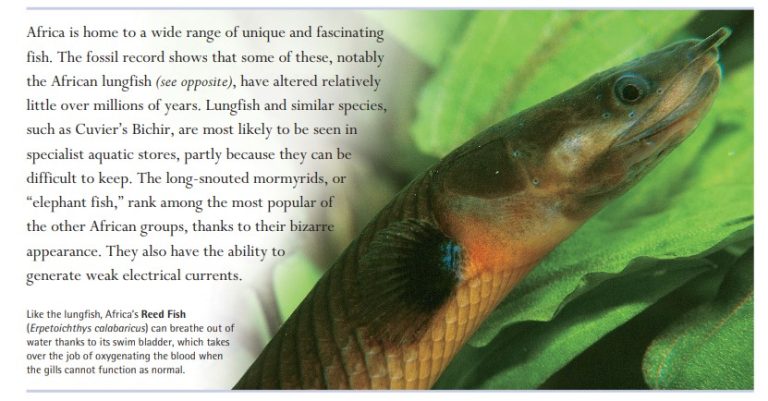 Peter's Elephant-Nose (Gnathonemus petersii)
ORIGINS: Western and central parts of Africa, ranging from Nigeria and Cameroon to Zaire.
SIZE: 9 in (23 cm).
DIET: Mainly live foods.
WATER: Temperature 72–82°F (22–28°C); soft (50–100 mg/l) and neutral (pH 7.0).
TEMPERAMENT: Territorial.
The elongated lower jaw of this mormyrid fish resembles an elephant's trunk. In the wild, it is used to dig for food in the muddy substrate. Mainly nocturnal in habit, these fish can be identified by two vertical white stripes extending down each side of the body from the dorsal fin. Elephant-Noses can generate electrical impulses, which help them to navigate in murky water. They do not get along well with their own kind, and their breeding behavior in home aquariums has yet to be documented.
Down Poker (Campylomormyrus rhynchophorus)
ORIGINS: West Africa, in Angola and the Congo basin, especially around Kinshasa.
SIZE: 8 1⁄2 in (22 cm).
DIET: Mainly live foods.
WATER: Temperature 72–75°F (22–24°C); soft (50–100 mg/l) and acidic (pH 5.0).
TEMPERAMENT: Territorial.
The Down Poker has a speckled body and a long, thick proboscis formed by its elongated jaws. This mormyrid requires subdued lighting, along with a fine substrate in which it can dig for invertebrates, such as small worms. It is difficult to wean off live foods, but in time this fish may eat flaked food as well. Down Pokers should not be kept together, but they can be housed singly with other nonaggressive species.
Butterflyfish (Pantodon buchholzi)
ORIGINS: West Africa, where it occurs in parts of Nigeria, Cameroon, and Zaire.
SIZE: 4 in (10 cm).
DIET: Mainly live foods.
WATER: Temperature 73–86°F (23–30°C); soft (50–100 mg/l) and acidic (pH 6.5).
TEMPERAMENT: Will not mix with other surface dwellers.
With its elegant pectoral fins, this fish resembles a butterfly in flight. The straight back and upturned mouth indicate that it spends much of its time at the surface. A tank for Butterflyfish needs to be shallow and covered, with floating plants over part of the surface. Butterflyfish congregate beneath vegetation, darting out to obtain food. Their eggs, numbering up to 200, also float on the surface.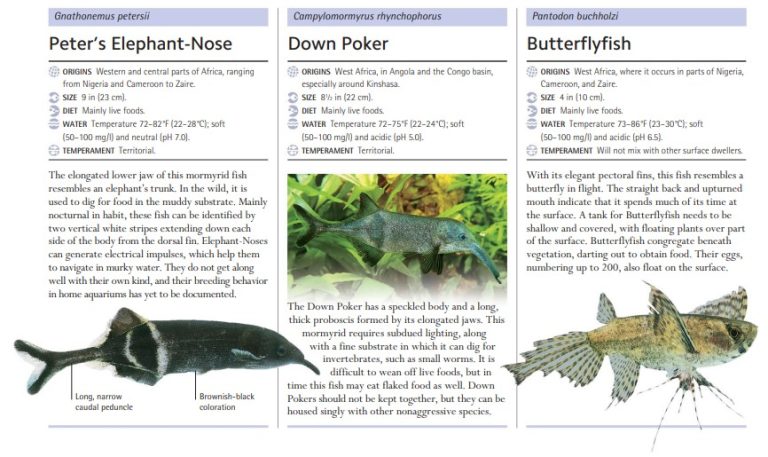 Cuvier's Bichir (Polypterus senegalus)
ORIGINS: Africa, in parts of Senegal, Gambia, Chad, and Niger, and in the White Nile and Lakes Rudolf and Albert.
SIZE: 12 in (30 cm).
DIET: Live foods.
WATER: Temperature 77–82°F (25–28°C); soft (50–100 mg/l) and neutral (pH 7.0).
TEMPERAMENT: Aggressive and quarrelsome.
Light greenish coloration and pale underparts typify these eel-like fish. They also have a number of small dorsal fins running down their back and supplementary gills to help them survive in the wild in poorly oxygenated water. Cuvier's Bichirs require a large yet relatively shallow tank, with planting kept to a minimum but with plenty of retreats, such as bogwood. As members of the pike family, they are highly predatory by nature.
African Knifefish (Xenomystus nigri)
ORIGINS: West Africa, occurring in the the Niger River in Liberia, Niger, Zaire, and Gabon; also in the upper Nile.
SIZE: 12 in (30 cm).
DIET: Live foods.
WATER: Temperature 73–82°F (23–28°C); soft (50–100 mg/l) and acidic (pH 6.5).
TEMPERAMENT: Becomes territorial with age.
Shaped like a knife blade, this fish is brown to brownish-gray, occasionally with vertical stripes down the body. Knifefish require a well-planted aquarium and must not be kept with smaller companions. They tend to be nocturnal and may make bell-like sounds by compressing their swim bladders. The female is more colorful when she is in spawning condition, often turning reddish-brown. She may produce up to 200 eggs.
COCOONED IN MUD
Lungfish get their name from their ability to breathe air out of water. Air is taken up via folds in the swim bladder, which increase the organ's surface area and allow more blood to flow through it, facilitating gas exchange. Thanks to this auxiliary method of respiration, lungfish can survive through the dry season, when the pools that they inhabit evaporate. As water levels fall, a lungfish burrows down into the substrate and becomes sealed in the drying mud. With its body covered in mucus to prevent water loss, and using its swim bladder to breathe, it remains inert in its muddy cocoon until the rains return, typically four to six months later. The lungfish then frees itself from its cocoon and reverts to its aquatic existence.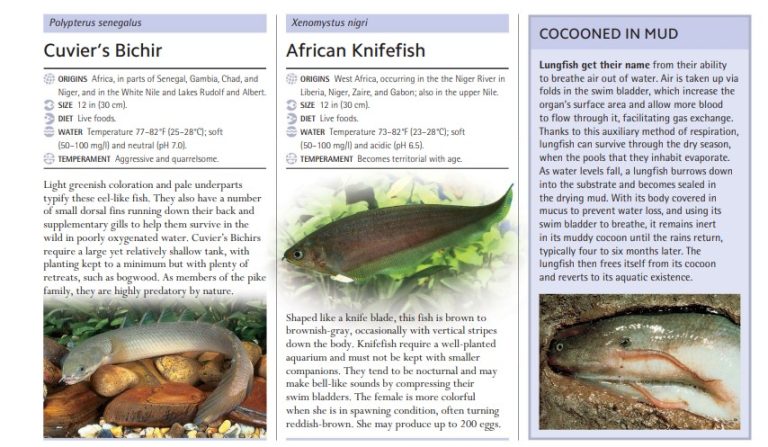 African Lungfish (Protopterus annectens)
ORIGINS: Africa, from Senegal eastward to Nigeria, and from Zaire southward to Zambia and Mozambique.
SIZE: 26 in (65 cm).
DIET: Carnivorous.
WATER: Temperature 79–86°F (26–30°C); soft (50–100 mg/l) and neutral (pH 7.0).
TEMPERAMENT: Aggressive and predatory
An elongated gray body, narrow, trailing pectoral fins, and a crestlike dorsal fin running down the back make the African Lungfish unmistakable. This fish needs to be housed on its own in a large, well-planted aquarium with relatively shallow water. The tank must have a soft, fine substrate and include bogwood to provide a suitable retreat. Feeding this unpicky predator is straightforward— even aquarium snails sharing its quarters are likely to be eaten. It has not yet proved possible to breed these lungfish in aquarium surroundings. This is partly because of their intolerant nature, which makes pairings difficult to achieve. Lungfish are not fussy about the pH and relative hardness of the water in their tank, but good filtration is essential to keep ammonia levels low.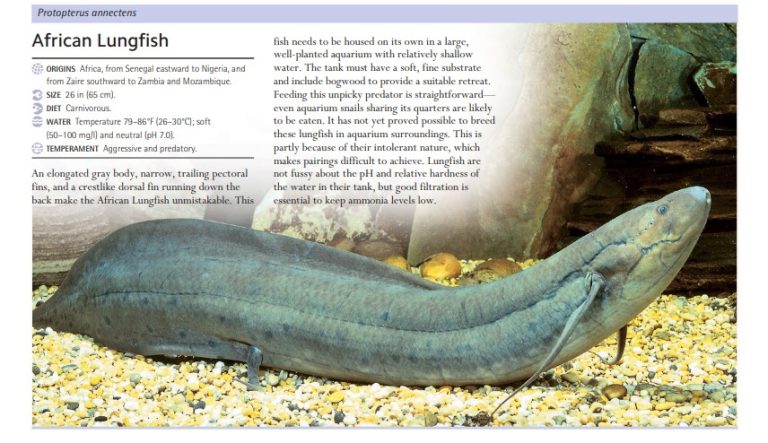 ---