Directory of Freshwater Fish
Livebearers
Mollies
Pacific Mexican Molly (Poecilia butleri)
ORIGINS: Central America, ranging from northern Mexico into Guatemala and Honduras.
SIZE: 3 1⁄2 in (8.5 cm).
DIET: Prepared foods, vegetables, and small live foods.
WATER: Temperature 75–81°F (24–27°C); hard (100–150 mg/l) and alkaline (pH 7.5).
TEMPERAMENT: Placid and social.
The coloration of Pacific Mexican Mollies in the wild is variable, ranging from shades of blue to yellowish and silvery tones. Darker coloration is seen in some individuals, notably in the race known as Limantour's Molly (P. m. limantouri). The wild Pacific Mexican Molly is the ancestor of the Black Molly, the most popular of the domesticated varieties available today. The Black Molly was created in the 1930s by a breeder in New Orleans, although the exact route of its development is now unclear. Its distinctive matt-black coloration almost certainly derives from melanistic examples of the wild form. Like the Pacific Mexican, the Black Molly has a low dorsal fin, a relatively elongated body, and a compact, rounded caudal fin. The black coloration has also been combined with marbled and balloon characteristics. Black varieties look good in an aquarium alongside bright orange swordtails (see p.160). These fish often fare better when kept in slightly brackish water. This seems to make them less vulnerable to the parasitic illness known as "ich," or white spot (see p.58), which shows up clearly against the color of their bodies. Females typically produce 40–300 offspring per brood.
Marbled Molly A relative of the Black Molly and another descendant of the Pacific Mexican Molly, this fish has a varied pattern of large, irregular black blotches, making it easy to distinguish from spotted or dotted forms.
Marbled Lyretail Molly In this form, the upper and lower rays of the caudal fin are elongated. However, changes to the structure of the caudal fin are not common in mollies.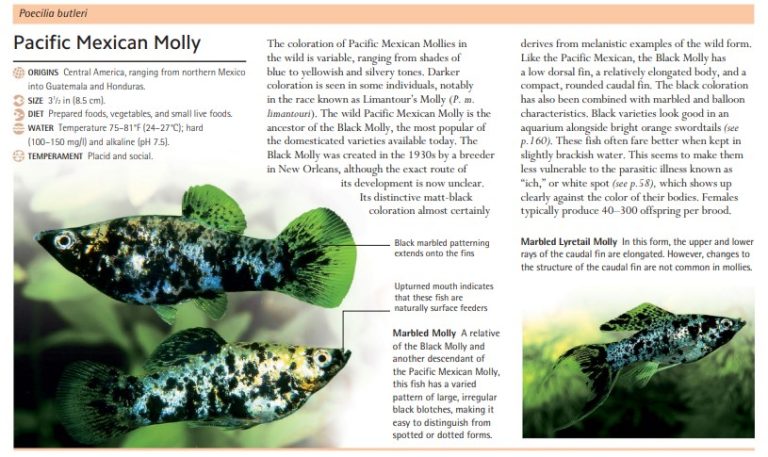 CLONED FISH
The Amazon Molly (P. formosa) is believed to be a wild hybrid of the Yucatán and Pacific Mexican species. Its common name refers not to its distribution (which extends from parts of the southern U.S. into Central America) but to the fabled all-female tribe of South America. Only one in every 10,000 of these fish is a biological male, and the arrangement of the males' chromosomes suggests that they are sterile.
The offspring produced by female mollies are therefore clones of their mothers, making the Amazon Molly the first unisexual vertebrate to be discovered. Female Amazons still need to mate in order to give birth, so they attract males of other molly species, by interrupting their courtship rituals, and also simply by living alongside them so that the males eventually come to identify with them. While sperm produced by these males triggers the development of an Amazon Molly's eggs, it does not fertilize them. The eggs contain the complete genetic blueprint of the young, rather than just the half normally contributed by female vertebrates that reproduce sexually.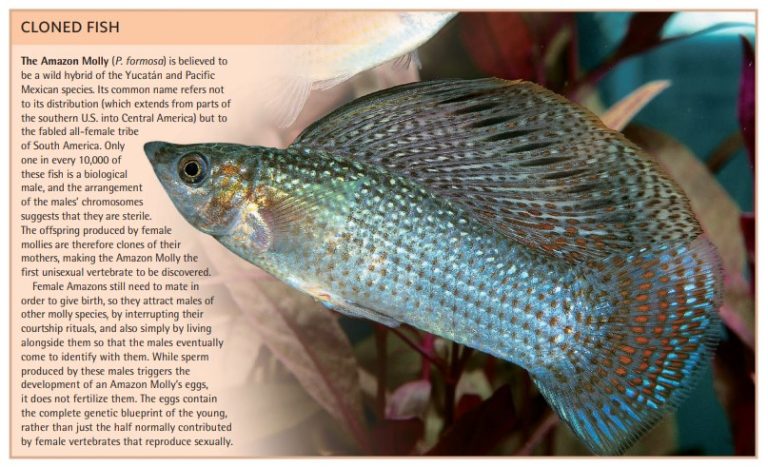 Sailfin Molly (Poecilia velifera)
ORIGINS: Central America, restricted to the Yucatán Peninsula of Mexico.
SIZE: 7 in (18 cm).
DIET: Prepared foods and small live foods.
WATER: Temperature 73–82°F (23–28°C); hard (100–150 mg/l) and alkaline (pH 7.5).
TEMPERAMENT: Generally social.
The Sailfin Molly has a long, tall dorsal fin that runs almost the entire length of the fish's back. Sailfin Mollies have been used extensively in the development of today's domesticated variants, which exist in a wide range of colors. These relatively large mollies must be kept under good water conditions; if conditions are less than ideal, they display their unhappiness by rocking gently back and forth in the same spot—a behavior known as shimmying. Wild Sailfin Mollies usually require a brackish environment, and this may also be of benefit to their domesticated relatives. When acquiring these fish, always check whether they have been kept in brackish water previously so that you can adjust the conditions in their tank accordingly to ensure a trouble-free period of acclimatization. Female Sailfin Mollies may produce a brood of more than 100 fry as regularly as every six weeks. The height of the dorsal fin in their offspring can vary greatly, because of crossings involving the Pacific Mexican Molly (see opposite) and the other sailfin form, P. latipinna, which has a shorter, less impressive dorsal fin. Like other mollies, Sailfins will live in groups, but it is important to house several males together; if there are just two, the weaker individual will inevitably be bullied.
Marmalade Molly (below) These mollies are a vibrant orange, with some individuals resembling platies (see p.162) in their depth of coloration.
Spotted Silver Molly This variant displays black spots on its silvery body. The distribution of the spots is entirely random, allowing individuals to be distinguished by their appearance.
Green Molly (above) This variety is easily distinguished by its pale, greenish body color and the lines of darker dots running along its sides.
Lyre-Tailed Black Balloon Molly These fish have a compact, rounded body shape and sometimes encounter difficulty in swimming as a consequence.
Goldfin Metallic Marble Sailfin Sometimes called the Starburst Molly, the black areas on this variety are mainly restricted to the dorsal and caudal fins.
Brown Marble Sailfin Molly This individual is heavily marbled, although there is little pigmentation on the outer parts of the dorsal and caudal fins.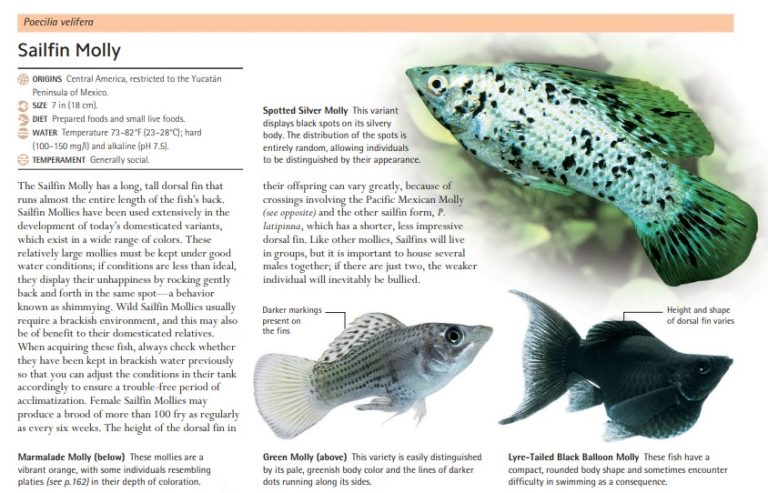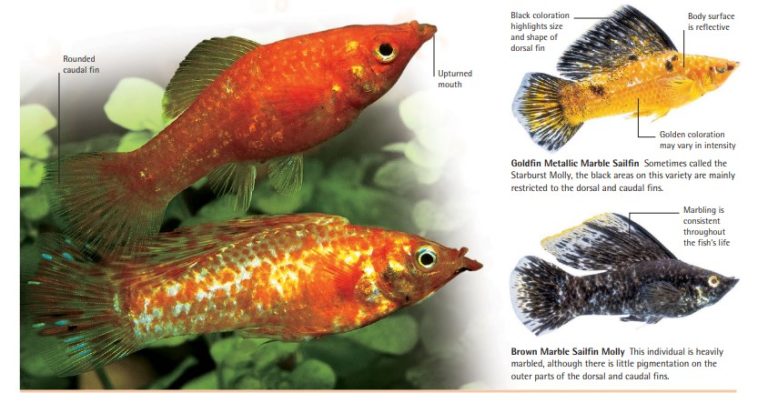 ---