Directory of Freshwater Fish
Catfish
Armored catfish
Greenhump Catfish (Corydoras britskii)
ORIGINS: South America, in the Mato Grosso, Brazil, and also in the Rio Paraguay, Paraguay.
SIZE: 5 in (13 cm).
DIET: Prepared foods and small live foods.
WATER: Temperature 73–77°F (23–25°C); soft (50–100 mg/l) and acidic (pH 6.5).
TEMPERAMENT: Social and nonaggressive
Greenhump Catfish are orange beneath and iridescent green on top. The intensity of their coloration depends on lighting conditions. The long mouth ends in prominent barbels on the jaws. Greenhump Catfish resemble corydoras, although they can be distinguished at a glance by their more compressed body shape and longer dorsal fin. They do not grow to a particularly large size, and they are generally suitable for a community aquarium. Young individuals often swim in the mid-water zone, while adults spend more time close to the floor of the tank, seeking food. They dig in the substrate with their mouthparts, so make sure that this is sandy. If kept on sharp gravel, Greenhump Catfish are likely to develop sore mouths, which can in turn become infected.
To maintain good water quality, change about 30 percent of the water every two weeks or so. The male and female are not easy to tell apart, but the male may be slightly smaller overall, with a more colorful appearance. Increasing the amount of live food in the diet should encourage the fish to spawn.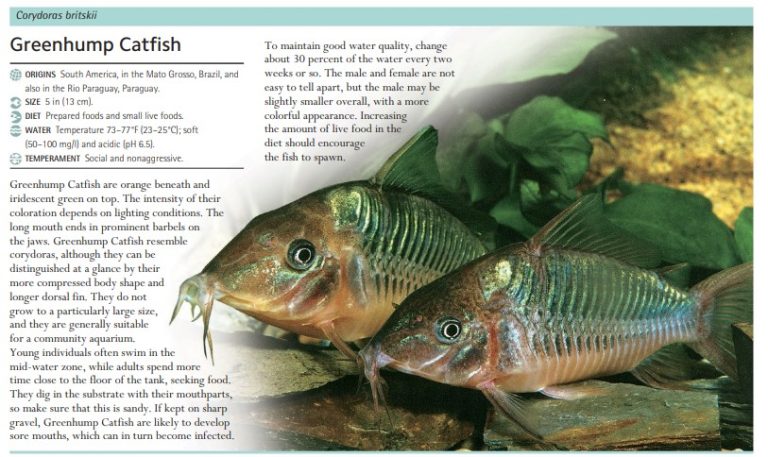 Long-Finned Brochis (Brochis multiradiatus)
ORIGINS: South America, occurring in the upper Napo River in Ecuador.
SIZE: 4 in (10 cm).
DIET: Prepared foods and small live foods.
WATER: Temperature 70–75°F (21–24°C); soft (50–100 mg/l) and acidic (pH 6.5).
TEMPERAMENT: Social and nonaggressive.
This species looks similar to the Greenhump Catfish, but a longer head profile helps to set it apart from its close relative. The Long-Finned Brochis also lacks the bony plate that covers the underside of the jaw in the Greenhump. A standard diet of catfish pellets needs to be supplemented with other foods, such as pieces of shrimp. This is likely to encourage spawning.
Common Brochis (Corydoras splendens)
ORIGINS: South America, in the upper Amazon region; recorded in parts of Ecuador, Peru, and Brazil.
SIZE: 3 1⁄4 in (8 cm).
DIET: Prepared foods and small live foods.
WATER: Temperature 70–82°F (21–28°C); soft (50–100 mg/l) and acidic (pH 6.5).
TEMPERAMENT: Social and nonaggressive
Scientific name changes mean that not all catfish now included in the genus Corydoras have this description incorporated into their common name, as typified by the case of the Brochis catfish. Green iridescence is particularly prominent in this Brochis species, covering the head as well as much of the body. The underparts have a pinkish suffusion, which is most evident in males. For breeding purposes, it is recommended to keep a small group of three males and two females. The eggs are scattered among aquatic vegetation, and the catfish must be removed before they eat them.
BONY CASING
The body covering of the so-called armored catfish, which form the Callichthyidae family, differs significantly from that of other fish. They are covered not with scales but with two rows of bony plates, sometimes described as scutes, which meet in the midline on each side of the body. The scutes form a more rigid barrier than scales and thus provide better protection against would-be predators. However, this body casing may make it harder for the fish to breathe via their gill flaps, so armored catfish should always be kept in well-oxygenated surroundings.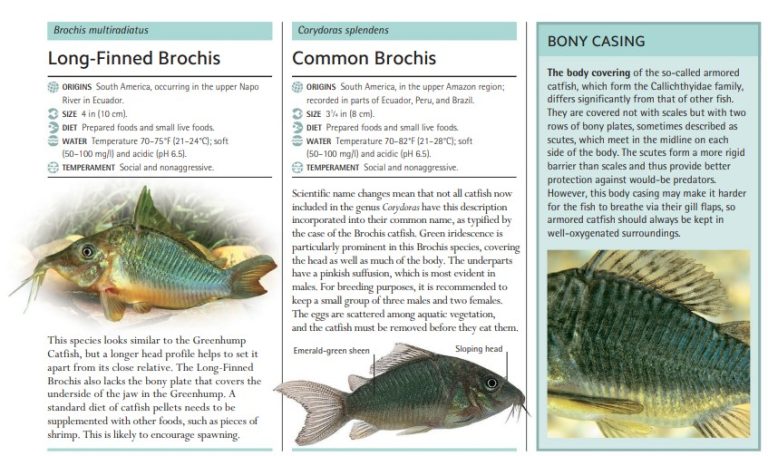 ---