Directory of Freshwater Fish
Anabantoids
Bettas
The defining characteristic of this group of fish is a special structure called the labyrinth organ. Located close to the gills, it enables the fish to breathe atmospheric air directly. Anabantoid species, which include the popular bettas and gouramis, are found in parts of southern Asia and in Africa. Virtually all anabantoids display a degree of parental care. In most cases, the male constructs a bubble nest for the eggs, although some species are mouth-brooders. While males can be kept in community aquariums, they are frequently too aggressive to make suitable companions for each other.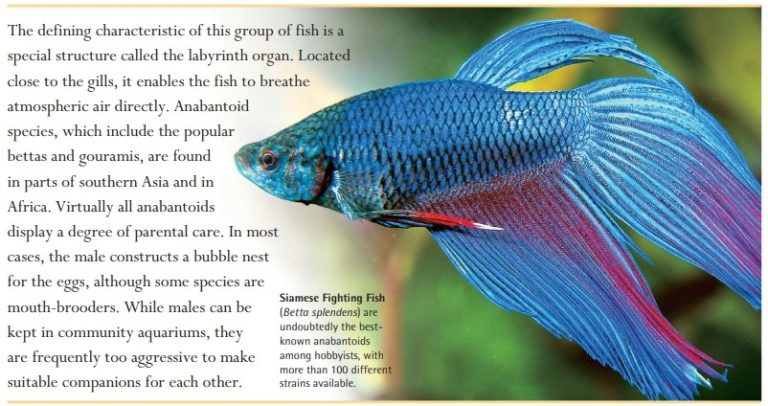 Siamese Fighting Fish (Betta splendens)
ORIGINS Southeast Asia, occurring in Thailand, although its exact range is uncertain.
SIZE 2 1⁄4 in (6 cm).
DIET Prepared foods and live foods.
WATER Temperature 75–82°F (24–28°C); soft (50–100 mg/l) and acidic (pH 6.0–6.5).
TEMPERAMENT Males are aggressive toward each other.
The Siamese Fighting Fish is also referred to as the Betta, particularly in North America. This species was widely kept in Thailand for more than 200 years before it became known in the West in the late 1800s. In their homeland, where they frequent the canals, or klongs, that flow through many Thai cities, Siamese Fighting Fish were selectively bred not only for their color but also for their fighting ability, with significant amounts of money being bet on the outcome of contests between the more aggressive males.
Half-Moon Betta female Sexing is quite straightforward with the Betta, since the fins of females are generally far less elaborate in appearance than those of males.
Half-Moon Betta male Black is not a popular color for bettas, since it is linked with a lethal gene. If two black fish mate, some of the offspring will die before hatching.
Steel-Blue Betta Blue coloration is common in the Betta. This specimen has excellent fins that are unblemished and show no signs of damage.
Red Betta Ranked as the most colorful Betta variety, this fish comes in several different shades, from the very bright shade shown above through to rich crimson.
Violet Betta This color form is largely blue with violet undertones. However, the patterning and intensity varies greatly, allowing individuals to be easily distinguished.
Cambodian Betta This white color variant was thought to be a separate species when it first became known in the West. It is sometimes referred to as the Plakat.
Crown Betta Selective breeding has given the Crown Betta rough-edged fins. Like other variants, the Crown Betta uses its fins to display to rivals and potential mates.
Round-Tailed Cambodian Betta Some individuals are paler than others, being, in effect, albinos. The dark-eyed form retains some color pigment.
Split-Tailed Betta In good specimens, the divided caudal fin is symmetrical, with both branches of the tail being equal in size and shape.
Round-Tailed Betta The caudal fin of this fish is relatively small and rounded, rather than long and trailing as in most strains. The colorful rays add to its appeal, as does the dark edging on the fins.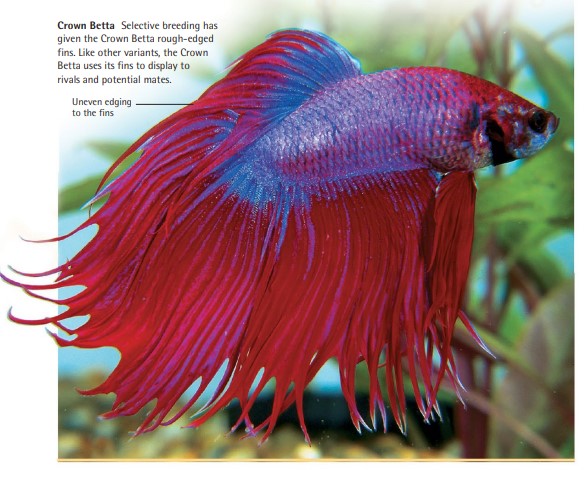 Different strains evolved from cross-breeding fish obtained from various parts of Thailand. As a result, it is now practically impossible to be certain of the original distribution of these fish, or of their natural coloration, even though alleged "wild type" specimens are occasionally offered for sale. Current thinking is that wild forms were originally dark red, probably with bluish streaking on their fins and a pair of vertical lines on the side of the head behind the eyes. Certainly, the wild ancestors of today's Siamese Fighting Fish had simpler fins than those seen in modern strains.
It is likely that interest in keeping these fish for fighting purposes began, not in Thailand, but in neighboring Cambodia (Kampuchea). In fact, the Thai name for these fish is pla kat khmer, which translates as "fin-biter in Khmer" (Khmer is a former name of Cambodia). Since being introduced to the West, however, breeders have concentrated on establishing a wide range of color forms, ranging from white through yellow to purple. Selective breeding has also been used to modify the fins, which are always more elaborate in the males. With the exception of the female Half-Moon Betta, pictured below left, all the specimens shown here are male.
In Thailand, it is traditional to house Siamese Fighting Fish in small jars, but these provide little swimming space and make it difficult to maintain the water quality. The natural grace and elegance of the fish will be more apparent in an aquarium. A single male can be kept in a tank with several females, or even as part of a community aquarium. However, avoid mixing these fish with fin-nipping species, which will attack the flowing fins, or with fish of a similar coloration, which may themselves be attacked by the Siamese Fighting Fish.
These fish are easy to care for, but they are not especially long-lived, with an average life span of about two years. Pairs of seven or eight months old are best for breeding. They need a relatively shallow spawning tank, about 8 in (20 cm) deep. It must be covered and include floating plants, among which the male will build a bubble nest. Thai breeders often add the leaves of the Ketapang or Indian almond tree (Terminalia catappa) to assist with the conditioning of the water. These leaves are available in the West through specialist suppliers.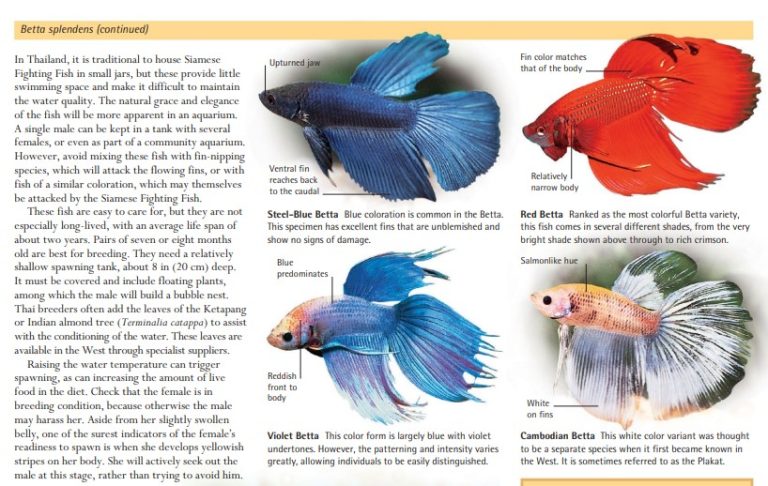 Raising the water temperature can trigger spawning, as can increasing the amount of live food in the diet. Check that the female is in breeding condition, because otherwise the male may harass her. Aside from her slightly swollen belly, one of the surest indicators of the female's readiness to spawn is when she develops yellowish stripes on her body. She will actively seek out the male at this stage, rather than trying to avoid him.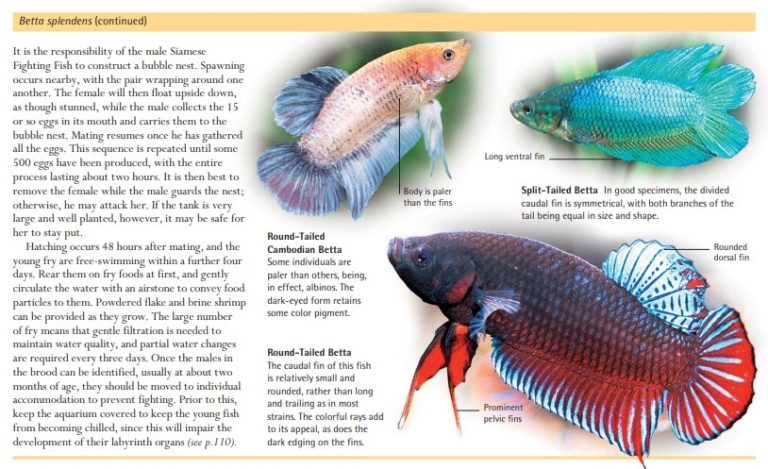 It is the responsibility of the male Siamese Fighting Fish to construct a bubble nest. Spawning occurs nearby, with the pair wrapping around one another. The female will then float upside down, as though stunned, while the male collects the 15 or so eggs in its mouth and carries them to the bubble nest. Mating resumes once he has gathered all the eggs. This sequence is repeated until some 500 eggs have been produced, with the entire process lasting about two hours. It is then best to remove the female while the male guards the nest; otherwise, he may attack her. If the tank is very large and well planted, however, it may be safe for her to stay put.
Hatching occurs 48 hours after mating, and the young fry are free-swimming within a further four days. Rear them on fry foods at first, and gently circulate the water with an airstone to convey food particles to them. Powdered flake and brine shrimp can be provided as they grow. The large number of fry means that gentle filtration is needed to maintain water quality, and partial water changes are required every three days. Once the males in the brood can be identified, usually at about two months of age, they should be moved to individual accommodation to prevent fighting. Prior to this, keep the aquarium covered to keep the young fish from becoming chilled, since this will impair the development of their labyrinth organs.
LOOKING FOR A FIGHT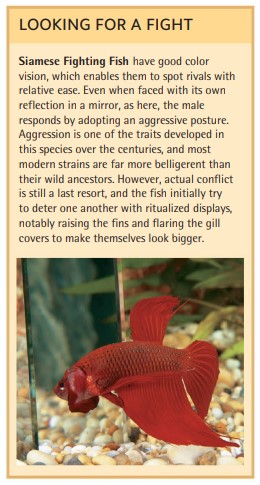 Siamese Fighting Fish have good color vision, which enables them to spot rivals with relative ease. Even when faced with its own reflection in a mirror, as here, the male responds by adopting an aggressive posture. Aggression is one of the traits developed in this species over the centuries, and most modern strains are far more belligerent than their wild ancestors. However, actual conflict is still a last resort, and the fish initially try to deter one another with ritualized displays, notably raising the fins and flaring the gill covers to make themselves look bigger.
Emerald-Green Betta (Betta smaragdina)
ORIGINS: Southeast Asia, present in Cambodia (Kampuchea), Laos, and eastern parts of Thailand.
SIZE: 2 1⁄4 in (7 cm).
DIET: Prepared foods and live foods.
WATER: Temperature 75–82°F (24–28°C); soft (50–100 mg/l) and acidic (pH 6.0–6.5).
TEMPERAMENT: Males may quarrel.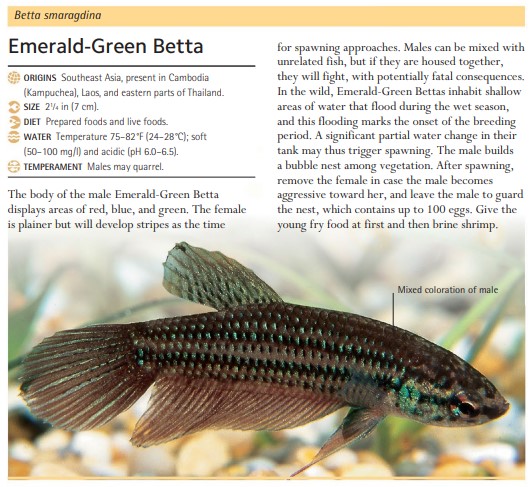 The body of the male Emerald-Green Betta displays areas of red, blue, and green. The female is plainer but will develop stripes as the time for spawning approaches. Males can be mixed with unrelated fish, but if they are housed together, they will fight, with potentially fatal consequences. In the wild, Emerald-Green Bettas inhabit shallow areas of water that flood during the wet season, and this flooding marks the onset of the breeding period. A significant partial water change in their tank may thus trigger spawning. The male builds a bubble nest among vegetation. After spawning, remove the female in case the male becomes aggressive toward her, and leave the male to guard the nest, which contains up to 100 eggs. Give the young fry food at first and then brine shrimp.
Mouth-Brooding Betta (Betta pugnax)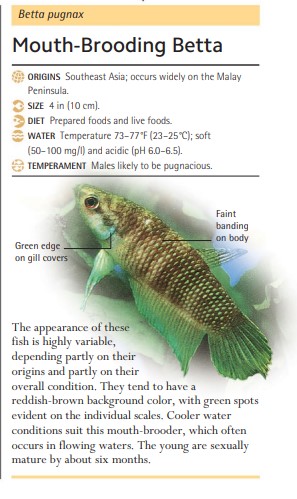 ORIGINS: Southeast Asia; occurs widely on the Malay Peninsula.
SIZE: 4 in (10 cm).
DIET: Prepared foods and live foods.
WATER: Temperature 73–77°F (23–25°C); soft (50–100 mg/l) and acidic (pH 6.0–6.5).
TEMPERAMENT: Males likely to be pugnacious
The appearance of these fish is highly variable, depending partly on their origins and partly on their overall condition. They tend to have a reddish-brown background color, with green spots evident on the individual scales. Cooler water conditions suit this mouth-brooder, which often occurs in flowing waters. The young are sexually mature by about six months.
Slim Betta (Betta bellica)
ORIGINS: Southeast Asia, where its distribution is centered on the Malay Peninsula.
SIZE: 4 1⁄2 in (11 cm).
DIET: Prepared foods and live foods.
WATER: Temperature 75–82°F (24–28°C); soft (50–100 mg/l) and acidic (pH 6.0–6.5).
TEMPERAMENT: Males only aggressive when breeding
The Slim Betta shows greenish-blue markings set against a brownish background. Although introduced to Europe as far back as 1905, this species has not become as popular as the Siamese Fighting Fish (see pp.104–106). Males can be identified by their brighter coloration and longer fins. Slim Bettas are now regarded as being the same species as the Striped Betta— a darker blue variant from Sumatra that was previously known as Betta fasciata. The male Slim Betta constructs a bubble nest at the surface among vegetation, so make sure that floating plants are included in the tank. These bettas occasionally emerge to rest on the plants, slipping back into the water if disturbed. The young, which are freeswimming within three days of hatching, require a fry food at first. After a similar interval, introduce brine shrimp to their diet.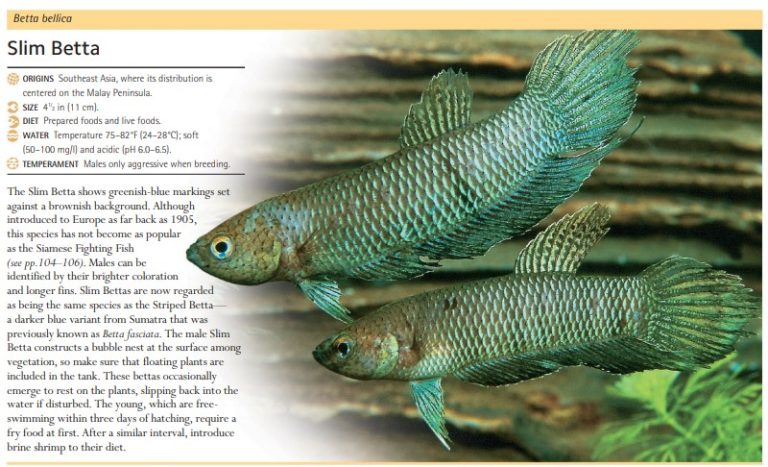 JAW SHAPE AND BREEDING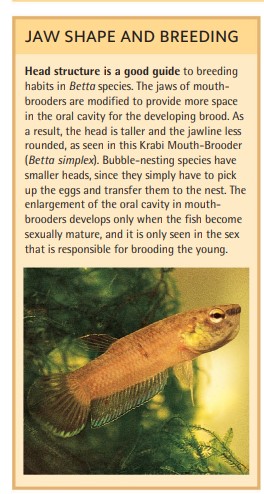 Head structure is a good guide to breeding habits in Betta species. The jaws of mouthbrooders are modified to provide more space in the oral cavity for the developing brood. As a result, the head is taller and the jawline less rounded, as seen in this Krabi Mouth-Brooder (Betta simplex). Bubble-nesting species have smaller heads, since they simply have to pick up the eggs and transfer them to the nest. The enlargement of the oral cavity in mouthbrooders develops only when the fish become sexually mature, and it is only seen in the sex that is responsible for brooding the young.
Wine-Red Betta (Betta coccina)
ORIGINS: Southeast Asia, present on Sumatra and the southern tip of the Malay Peninsula.
SIZE: 2 1⁄2 in (6 cm).
DIET: Prepared foods and live foods.
WATER: Temperature 75–82°F (24–28°C); soft (50 mg/l) and acidic (pH 5.0–6.0).
TEMPERAMENT: Males are aggressive toward each other.
The Wine-Red Betta first became available to hobbyists in the 1980s. The body color that gives the fish its name is restricted to the male; the female is decidedly brownish. Males must be kept individually, to prevent fighting. Water quality is especially important for the health of this rather delicate species, and peat filtration is advisable. Up to 60 eggs form the typical brood, and both parents can be safely left with their young.
Crescent Betta (Betta imbellis)
ORIGINS: Southeast Asia, on the Malay Peninsula and nearby islands, notably Phuket and Pinang.
SIZE: 2 in (5 cm).
DIET: Prepared foods and live foods.
WATER: Temperature 75–82°F (24–28°C); soft (50–100 mg/l) and acidic (pH 6.0–6.5).
TEMPERAMENT: Males may fight each other.
Male Crescent Bettas are more colorful than females, their brownish bodies displaying blue hues. There are distinct regional variations, with fish from Pinang Island being yellowish in color. Male Crescent Bettas are far from docile, especially when in breeding condition. If well fed, a pair of these bubble-nesting fish will spawn several times in quick succession, producing as many as 150 eggs per batch.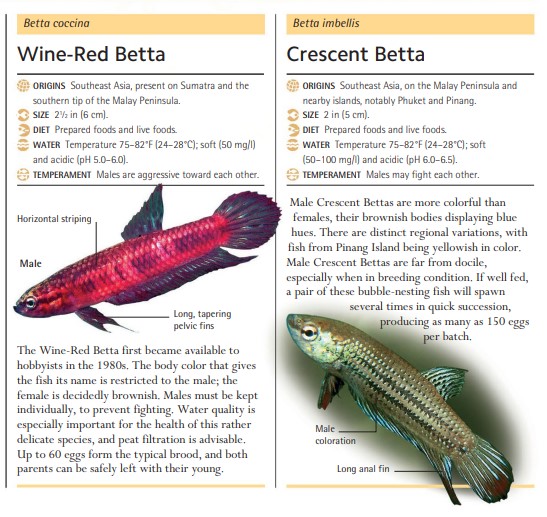 ---